May 21, 2013 in Community News, News Flash by Angie Capozello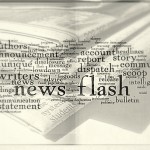 Elise VanCise shared the news on her blog about the Marketing for Romance Writers free online "Taste of Summer Camp". The three-day conference will take place July 12th thru 14th.
Laura Eno was interviewed about her contribution to the "Allegories of the Tarot" anthology.
Magaly Guerrero will be giving away prizes as the finale to her May Monster Madness posts. Stop by her blog for full details on how to enter.
SAM from the My Write Side blog has a story featured on Studio 30+  "If it smells like a hare…"
Aimee Pavy had an article featured in the SilentFilm.org's Winter 2013 issue: "Marguerite Clark: The Biggest Little Lady in the Movies."
—
Congratulations to everyone!
- Angie C.
Keep the good news coming! You can send in your news items concerning the Friday Flash community through the News Hound form or by contacting me on Facebook, Google Plus or Twitter. Or feel free to share your news by posting on the #fridayflash Facebook Group Page.