March 6, 2014 in From Scene to Screen, Thursday Writing, Writers by Angie Capozello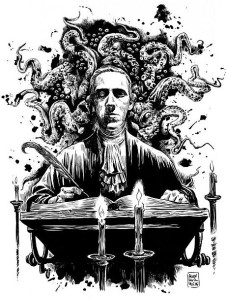 The works of H.P. Lovecraft, and some of the issues with adapting them to the screen
It has always amazed me just how many of the movies we all love start their lives as novels. And it makes me very proud to see what a huge influence a writer can have on culture and entertainment. That being said, not every novel gets a good adaptation.
Case in point, everything ever written by H. P. Lovecraft.
Lovecraft's works are cited as the inspiration for modern horror writers the world over, and endless attempts at taking his work to the screen have been made over the years.  The closest I've seen is an old 50's Vincent Price thriller, The Haunted Palace, which had to be delivered under the cover of a Poe series of horror flicks to even get it made.
So why doesn't it adapt to screen?
Part of it may be the ornate way that Lovecraft wrote. His works are dense with words, lovely to sink your mind into, but they don't read aloud very easily.  Another part of it may be that they are too cerebral – most of the horror takes place off scene, or can only be described in visceral feelings of dread rather than physical manifestations. There really isn't much to transport into a visual media.  Some of it may be chalked up to small budgets and poor production value, but even Guillermo del Toro has struggled with it.  His version of "The Mountains of Madness" has languished for years in pre-production limbo.
Which begs the question, how do you write a thinking man's horror for a modern, cheap thrill world?  I'm not sure I have the answer to that.  What I do know is that any script writer would do well to study classics of suspense, like Orwell or Hitchcock, to see why it is that their pieces still resonate today.
It is interesting to see little pieces of Lovecraft make its way into movies, (we have a running gag amongst our friends – 'hey, is that a tentacle?') and I sincerely hope that someone has the skill, and budget someday to make it happen.  Who knows, maybe del Toro will pull it off.  Until then, I know that I will keep studying the writing craft along with old movies, and try to come up with my own version.  And I hope you will too.
*Image copyright: Lovecraft by Francesco Francavilla