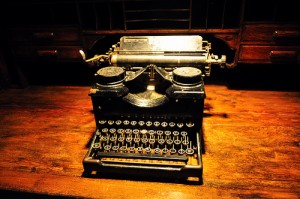 UPDATE: Gallery Open, But Not As A Contest

We're writers. We're nosy. I mean snoopy. Okay, naturally curious.
Want to see each other's personal writing space – with the added bonus of not having your camera confiscated when security finds you in your fellow writer's Azalea bush under their window?
Well now you can share the site of your inspiration on the new "My Personal Writing Space" Gallery on Facebook. All you have to do, is upload a photo to the "My Personal Writing Space" album on the #fridayflash Group Page.
We're looking for photos of where you do your thinking, writing, outlining, research, thumping of head against the desk (either yours or of those who dare disturb the writing process – just make sure to wipe off any blood stains)

The gallery is open to all, both readers and writers of #FridayFlash. We've had to yank the contest, since it apparently violates the Facebook terms of service. It was simply intended to generate interest and interaction on the Facebook Group Page. An open gallery will probably serve the same purpose. To make amends we will send a coupon code for the ebook of the Best of Friday Flash – Volume One to everyone who posted in good faith.
We'd still love to see your photos. Now… what are you waiting for? Get uploading!
~ Estrella Azul, Jon Strother
© Photo courtesy of xlibber