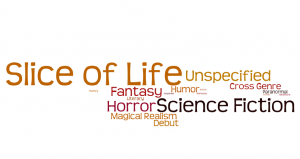 Wow, has it been two full years already? This week marks the end of year two. Next week we start it all over again with The Friday Flash Report — Vol 3, and you know where that will likely lead. We closed out the year in fine form with 66 stories and 5 debuts this week. Our debut participants are Dominic Perry, Stacey Larner, Matthew S Williams, Timothy Collard, and Syd Gill. Please give them a warm welcome to the Friday Flash community.
This is the last week you can enter a story for consideration in the Best of Friday Flash – Volume Two. Any story presented as a Friday Flash from the beginning up to and including the ones in this report are eligible for consideration (except if they were in BOFF 1, of course). So if you have not done so already visit the submission guidelines and get that story in before midnight tomorrow night! (Yes, I still need to submit my own – I put the "pro" in procrastination).
As usual, if your story is not in the week's listing it will be included next week if you visit the Collector and add the details. Speaking of the Collector, you may want to check out my previous post, Heads Up. Someone is obviously using zombie computers to spam the Collector and you may want to see if your computer matches one of the profiles. If so, please take corrective action. I'd hate to have to ban anyone.
I heard from several sources last week that we made the London Evening Standard. Be sure to check out Twitter Inspires Flash of Genius by my new most  favorite journalist in the world, Jasmine Gardner. Yes, if you couldn't tell, I am a little pleased. Be sure to check out the community news below the listings for more news. If one of the entries looks vaugely familiar, we'll…
Thanks again to everyone who helps make Friday Flash a weekly success.
~jon
The Stories
In the News
by Estrella Azul
#fridayflash made the News, it's been mentioned in an article in the London Weekly Standard – just goes to prove what an amazing community we are, rocking the Twitter world. We could almost even consider it an early birthday present as it was out on Wednesday.
John Wiswell's flash, "Computer Education", has been picked up for the Best of Every Day Fiction Volume Three, after being featured on their website last year. The anthology is out both in hardcover and paperback on Amazon.
Susan Helene Gottfried will be doing a signing with eight other great writers on June 17th, at the Penguin Bookshop in Sewickley, PA. Anyone in and around Pittsburg (but not only) is most welcome, Susan will be thrilled to see you!
The latest quarterly of 52/250, Thirty-nine, is out and it contains stories by Linda Simoni-Wastila, Catherine Russel, and many other wonderful writers.
Peggy McFarland had her short fiction piece, "Summer heat", featured in the latest issue of Cannoli Pie, Fresco.
If you want to listen to Emma Newman's lovely voice narrating a great sci-fi, you should check out "Fall from Earth", by Matthew Johnson.
Congratulations to all!
Also, Laura Eno is hosting a contest to win a copy of "Tempest Child" which comes out next Tuesday. The contest is open until Monday night, June 6th, and Laura will announce the winners on Tuesday, June 7th. The question she asks from all who enter is fun, so go check it out and try to guess. Break a leg everyone!
~ Estrella Azul
Keep the good news coming! You can send in your news items concerning the Friday Flash community to Estrella at estrella.azul@fridayflash.org or by contacting her on Facebook or Twitter.
The wrap
Thanks to all our readers. We love you. And please, if you enjoy a story leave comments when you visit. Writers love feedback almost as much as chocolate. Maybe more! Then go tell your friends to read it too. Help these writers grow.
You can subscribe to the #fridayflash hashtag
on Twitter every week for more great flash fiction.
We're on Facebook
too.
~jon