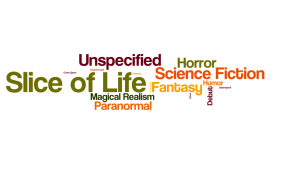 There were 55 stories this week, including 3 debuts. Please welcome Kieran MacIntosh, Kate Boardman, and Mish to the Friday Flash community. If you posted a flash this Friday and it is not included here be sure to add it to the Collector so people can find it next week.
Don't forget to check out the Facebook pets gallery to see some of your favorite writer's furry friends. Then be sure to post your pet story to the Writer's Group Contest Page before August COB 31st. (COB is another one of those crazy acronyms I'm so fond of – Close of Business, i.e., midnight Aug 31/Sept 1). Yes, you have to post it to the Group to win, place or show since the whole point is to get folks used to using Groups here. Aha! The ulterior motives have been revealed. So humor me, and everyone else for that matter. Or scare our pants off, or make us cry. Your choice.
Be sure to check out Estrella's News Flash tomorrow. Keep writing. Keep reading. Keep having fun.
~jon
The Stories
The wrap
Thanks to all our readers. We love you. And please, if you enjoy a story leave comments when you visit. Writers love feedback almost as much as chocolate. Maybe more! Then go tell your friends to read it too. Help these writers grow.
You can subscribe to the #fridayflash hashtag
on Twitter every week for more great flash fiction.
We're on Facebook
too.
~jon