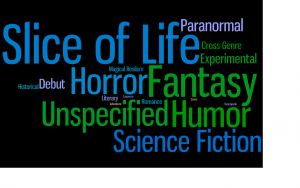 We have a double dose of stories to report this week, with 94 stories total, including four debuts. Please welcome Benjamin J Newland, Peter Newman, LadyJai, John Ross Barnes to the Friday Flash community. Welcome aboard, all.
I missed doing a wrap up last week, so this listing reflects two weeks worth of stories. And even this is a little late because I spent the weekend at Archon, the St. Louis science fiction convention. I got to hawk FridayFlash a couple of times, so maybe we'll pick up a few more readers and/or participants from it. At any rate I had a blast and will share some of what I came away with in the near future.
If your story is not in the listing please be sure to visit the Collector and add the details. We'll make sure it's in next week's report. Don't forget we have a great Halloween writing contest coming up. Start researching those horror movie titles now. You can't just expect them to come flying in though the rear window now, can you?
Thank you for participating. It is an honor to be associated with you all. ~jon
p.s. Look for some news about BOFF 2 soon. ~jon
The Stories
The wrap
Thanks to all our readers. We love you. And please, if you enjoy a story leave comments when you visit. Writers love feedback almost as much as chocolate. Maybe more! Then go tell your friends to read it too. Help these writers grow.
You can subscribe to the #fridayflash hashtag
on Twitter every week for more great flash fiction.
We're on Facebook
too.
~jon