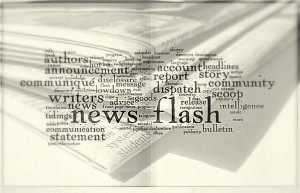 Angie Capozello has a guest blog post, "3 Steps to Increasing Tension to your Webserial", at Claudia Hall Christian's (the host of #bookmarket chat) site, On a Limb.
Jodi MacArthur's story, "Mantra", is being featured in All Due Respect's issue #16 this month.
P.J. Kaiser's story, "Zoning Patrol", is in the October issue of Doug Lance's eFiction magazine!  You can read the issue online or download it for your e-reader here.
Karen Schindler was guesting over at the #amwriting hub with a new fiction piece on Friday, "I double demon dare you…". Stop by and give it a read, she's  got caramel corn!
Congrats to all!
 ~~~
Maria Kelly started an ezine and needs submissions for Halloween drabbles. Check out TheWereTraveler here.
It is already the second week of October and the deadline for our "Name That Horror Movie" Halloween writing and reading contest is fast approaching. Follow this link for all the details about participating and accessing the entry form. Break a leg!
~ Estrella Azul
Keep the good news coming! You can send in your news items concerning the Friday Flash community to Estrella at estrella.azul@fridayflash.org or by contacting her on Facebook or Twitter.