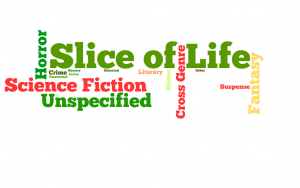 We had 48 stories this week with 1 debut. Please welcome Wesley Jacques to the #FridayFlash community. The report is a bit on the late side this week, still I hope you find it useful for spotitng a story or two you may have otherwise overlooked.
Not to plug my own story, but I do have a sample for the Name That Horror Movie Contest over at #AmWriting this week. If you are curious about the contest go have a gander, you may even win something. Last week's story, Room With a View is another example. So far no one has guessed either horror movie title. I may have to start giving out hints. I'll have another example up next week on my own blog, and then I hope to see all of your stories the following week. Don't forget to use the entry form if you want to be officially entered into the contest.
If your story is not in this week's listing, please enter the details in the Collector and we'll add it next week.
Good evening. ~jon
The Stories
The wrap
Thanks to all our readers. We love you. And please, if you enjoy a story leave comments when you visit. Writers love feedback almost as much as chocolate. Maybe more! Then go tell your friends to read it too. Help these writers grow.
You can subscribe to the #fridayflash hashtag
on Twitter every week for more great flash fiction.
We're on Facebook
too.
~jon