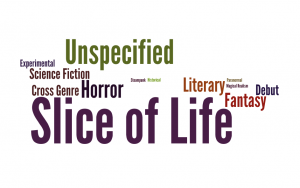 To keep everyone on their toes I am actually getting the Report out in some semblance of "on time." We had 44 stories this week including  3 debuts. Considering that we are in the throes of NaNoWriMo, that is pretty good turn out. Please welcome T.D.Boush, Rosalind Smith-Nazilli, and Lacy Lalonde to the #FridayFlash community.
If your story is not in the listing just visit the Collector and add your details. We'll have it in next week's listing. Thanks again to everyone who participates. I continue to believe this is one of the best communities of writers on the web. You are all terrific. ~jon
The Stories
The wrap
Thanks to all our readers. We love you. And please, if you enjoy a story leave comments when you visit. Writers love feedback almost as much as chocolate. Maybe more! Then go tell your friends to read it too. Help these writers grow.
You can subscribe to the #fridayflash hashtag
on Twitter every week for more great flash fiction.
We're on Facebook
too.
~jon