January 29, 2012 in FridayFlash Report by Tim VanSant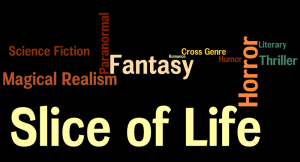 We have 48 stories in the Collector this week with 5 Debuts. Please welcome Luke Wortley, Fernando H. Stevens, Sonya Clark, Leonard White, and Nerine Dorman to the community. With the new options on the Collector we have 6 stories marked as being part of a series and 2 that have audio narration. The stories this week fall under 11 different genres. A fourth of them are Slice of Life, but Fantasy, Horror, and Magical Realism are also well-represented. As always, if your story is not in the listing below please go to the Collector and add the details. It will be in next week's listing.
I love the fact that this is a truly global community of writers. Most of our stories this week are out of the United States (25) and United Kingdom (14), but we also have three stories from Australia, two from Canada, and one each from Bulgaria, Germany, South Africa, and Taiwan. If we don't reach to the four corners of the globe, we come darn close. That's because you are all so quick to welcome new writers and you encourage people to join in the fun. Keep that up!
~Tim
The Stories
YOUR DEAD by Tim VanSant ~ @TimVanSant ~ Cross Genre
Young Couple Sitting at the Bus Stop by Chris Morton ~ @chrris9 ~ Slice of Life
Yet Another Story About Juggalos by Chris Munroe ~ @munsimunsi ~ Humor
Waking Up by Icy Sedgwick ~ @icypop ~ Horror
Unpacking by Kathy Dittrich ~ @katherkath ~ Slice of Life
Under the Dogwood Tree by Carrie Clevenger ~ @carrieclevenger ~ Slice of Life
The Wizard's Prophecy, Chapter 17 by JB Starre ~ @JBStarre ~ Fantasy ~ Serial
The Wishing Book by Emma Newman ~ @emapocalyptic ~ Magical Realism ~ Narrated
The Vagrant (Part 14) by Peter Newman ~ @runpetewrite ~ Science Fiction ~ Serial
The Price of Escape by David D Sharp ~ @aweeadventure ~ Slice of Life
The Piper by Kari Fay ~ @morganafiolett ~ Fantasy
The Nick Of Time (and other abrasions): Route d'abbaye Track Two 'Something' by Al Bruno III ~ @albruno3 ~ Paranormal ~ Serial
The New Orleans Vampire Tour by Timothy C. Hobbs ~ @MinorInsanity ~ Horror
The Fool by Nerine Dorman ~ @nerinedorman ~ Fantasy ~ Debut
The Dorothy Delusion. Part 9. by John Xero ~ @Xeroverse ~ Thriller ~ Serial
Th Stranger by Tom Gillespie ~ @Tom_Gillespie ~ Slice of Life
Stone by Gail Aldwin ~ @gailaldwin ~ Slice of Life
Ruiners by Nick Bryan ~ @NickMB ~ Humor
Reunion by Leonard White ~ @leonard_white ~ Horror ~ Debut
Resignation to the End by Lee-Ann Khoh ~ @leeannkhoh ~ Slice of Life
Over and Over by Deanna Schrayer ~ @deannaschrayer ~ Romance
On the horizon by Steve Green ~ Unspecified
Nightfall by John Xero ~ @Xeroverse ~ Science Fiction
Never Best by Danielle La Paglia ~ @Dannigrrl5 ~ Slice of Life
Mysterious Ways by Sonya Clark ~ @sonyabclark ~ Paranormal ~ Debut
Marylin by Rob Smales ~ @RobSmales ~ Horror
Mardi Gras: House of the Dead by Carole Gill ~ @carolelynngill ~ Horror
Letting Go by Jack Holt ~ @jackkholt ~ Slice of Life
Legion of Battle by Fernando H. Stevens ~ @FernandoHSteven ~ Science Fiction ~ Debut
Just Because by Tony Noland ~ @TonyNoland ~ Slice of Life
Hunting Season by Anke Wehner ~ @Anke ~ Paranormal
Helping Hand by Emelie E. Strother ~ Cross Genre
Hairspray by ChrisWhiteWrites ~ @Chriswhitewrite ~ Thriller
Grandma's House by JC Rosen ~ @JCRosen ~ Unspecified
Freedom by Sonia Lal ~ @soniawrite ~ Fantasy
Deadline by Aidan Fritz ~ @AidanFritz ~ Magical Realism
Codewords by ChrisWhiteWrites ~ @Chriswhitewrite ~ Thriller
Bullet for Bullet by Anne Michaud ~ @annecmichaud ~ Unspecified
At the End of the Day by Luke Wortley ~ @LukeWortley ~ Literary ~ Debut
Artifice by Lisa Vooght ~ @ficflash ~ Unspecified
An Echo Of What Once Was by Melissa L. Webb ~ @melissalwebb ~ Horror
A Story to Tell by Chuck Allen ~ @chuckallen ~ Slice of Life
A Reality Hitting Moment by Brainhaze ~ @Brainhazewp ~ Slice of Life
A Priest by John Wiswell ~ @Wiswell ~ Literary ~ Narrated
A Musician's elegy by Cindy Vaskova ~ @Raptamei ~ Magical Realism
A Game of Chess, Part 2 – Queen's Gambit by Angie C. ~ @techtigger ~ Fantasy ~ Serial
A Game of Chess Part 3 – A King in Check by Angie C. ~ @techtigger ~ Fantasy ~ Serial
A Birthday Story by Aaron Conaway ~ @M_Gideon ~ Magical Realism