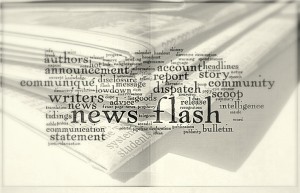 Michael J. Solander's bizarre absurdest tale, "Going Postal", has been featured last week at the Cavalcade.
Linda Simoni-Wastila's 53 words long story, "Snow Job", has been featured at Press 53, as the 1st place winner of Pokrompt.
Eric J. Krause has a new story published over at the e-zine Short-Story.me. Entitled "Special Order", it is a modern fantasy/horror story.
Allison Wells has a short story, "Meringue", included in the collection "Voices of Angels". The collection includes 17 stories and raises money for cancer charity, the Caron Keating foundation. It is available in Kindle version here. Paperback is available from Bridgehouse, Amazon UK  and Amazon US. Alison has been busy it seems as she also has a featured flash, "Agatha Burns", over at Metro Fiction.
Jodi MacArthur's fantasy YA story, "Ruby Hearts", has been published and narrated by Barry Northern, fantastic editor of two thriving podcasts (Cast Macabre and Cast of Wonders).  Go listen to it now, or download for later.
~~~
Carrie Clevenger's co-written book with Nerine Dorman, "Blood and Fire", is now out and available on Amazon in Kindle version.
The online radio station My Word Radio will be broadcasting a repeat of Deb Rickard reading her Cazart prize winning piece of flash fiction, "The Black Widow", on Saturday, February 4th at around 3pm. You can listen via this link or download the free application for iPhones, etc.
Congrats to all!
~ Estrella Azul
Keep the good news coming! You can send in your news items concerning the Friday Flash community to Estrella at estrella.azul@fridayflash.org or by contacting her on Facebook or Twitter. Or feel free to share your news by posting on the#fridayflash Facebook Group Page.