February 28, 2012 in Community News, News Flash by Estrella Azul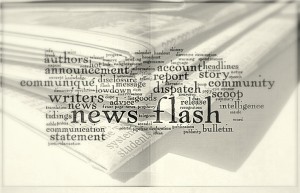 Kevin J. Mackey's short story, "A Song of Aine", was published at Short-Story.me! last Friday.
One of Dan Powell's short stories has been selected for inclusion in Best British Short Stories 2012 from Salt Publishing, due out in April.
Luke Wortley has posted his piece entitled "Hero's Haven", which was published in 366 Days of Flash: Leap Year Edition from Pill Hill Press, in which there is a story of 500 words or less for every day of the Leap Year. Luke's appears on September 15.
Alex J. Cavanaugh's second book, "CassaFire", is now officially available for purchase. For more info, to check out all the latest news and the related blog tour, visit Alex's blog.
Congratulations to all!
~ Estrella Azul
Keep the good news coming! You can send in your news items concerning the Friday Flash community to Estrella at estrella.azul@fridayflash.org or by contacting her on Facebook or Twitter. Or feel free to share your news by posting on the#fridayflash Facebook Group Page.