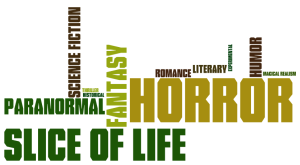 We had 47 stories in the Collector this week with 1 Debut and 8 serials. Please welcome Amy Lee Burgess to the community. The stories this week fall under 12 different genres; the most common this week are Horror and Slice of Life, with several Fantasy and Paranormal too. What a wonderfully diverse community we have! We will probably never be able to list every possible genre, but do you think there are any important ones we are missing? Do you ever choose Unspecified because the genre you really want isn't one of our choices? Let me know in the comments or use one of the contact methods in my profile.
Make sure you read Editor E. D. Johnson's post about The FFDO A-Team. This is your opportunity to write an article each month to be featured right here on the FFDO home page. You can get a little (international) name recognition for yourself, but more importantly you'll be contributing support to one of the finest writing communities anywhere. Email E. D. at the address in his post. (We don't want any sad pandas.)
There has been lots of terrific news in our weekly News Flash reports compiled by Estrella Azul. Keep sharing all the great links to publications, book launches, contests, markets for flash fiction, new gigs, etc. with your community. Estrella has contact info at the bottom of each News Flash.
As always, if your story is not in the listing below please go to the Collector and add the details. It will be in next week's listing. ~Tim
The Stories
Alone in the Woods by Tony Noland ~ @TonyNoland ~ Horror
Bloodaxe by The Four Part Land ~ @thefourpartland ~ Fantasy
Blue Bulb (Part 1) with Interview with Lauren Curtis on Her Oddities Appearance by W.J. Howard ~ @by_wjhoward ~ Horror ~ Serial
Coffee-shop Blues by ChrisWhiteWrites ~ @chriswhitewrite ~ Slice of Life
Dead Horse by Carrie Clevenger ~ @carrieclevenger ~ Historical
End of Story by Carole Gill ~ @carolelynngill ~ Horror
Eyes That Truly See by E. A. Irwin ~ @ea_irwin ~ Slice of Life
Fifth Period Gaming by Bevimus ~ @Bevimus ~ Slice of Life
Fish Live In Trees by Lee-Ann Khoh ~ @leeannkhoh ~ Unspecified
Focus by Aaron Conaway ~ @M_Gideon ~ Slice of Life
Give Me Your Hand by Marc Nash ~ @21stCscribe ~ Literary
Gremlins by Kari Fay ~ @morganafiolett ~ Fantasy
Hit the Trail by Deanna Schrayer ~ @deannaschrayer ~ Experimental
Home style by Leonard White ~ @leonard_white ~ Horror
Immortality by Chris Munroe ~ @munsimunsi ~ Humor
In The Dome by Steve Green ~ Unspecified
Jerry and Gary, Conjoined Twins by Andy Hollandbeck ~ @4ndyman ~ Humor
Kissing the Dawn by Nerine Dorman ~ @nerinedorman ~ Paranormal
Los Lobos by Rob Smales ~ @RobSmales ~ Horror
Love At Twenty by Rachel Carter ~ @rachcarter ~ Romance
Love in the Time of Leprosy … and Telekinesis by T.J. McIntyre ~ @southernweirdo ~ Horror
Mapmaker by John Xero ~ @xeroverse ~ Horror
Meeting over Coffee by Kevlin Henney ~ @KevlinHenney ~ Romance
Morning After Coffee by Lacy Lalonde ~ @lacylalonde ~ Unspecified
Moving On by Sonia Lal ~ @soniawrite ~ Slice of Life
On the Georgia Road #5 by Larry Kollar ~ @FARfetched58 ~ Science Fiction ~ Serial
On The Precipice: In Memory of Federico Garcia Lorca by Luke Wortley ~ @LukeWortley ~ Literary
One Mistake by Richard Bon ~ @liminalfiction ~ Slice of Life
Phantom Pains by Anke Wehner ~ @Anke ~ Paranormal
Primordial by Timothy C. Hobbs ~ @MinorInsanity ~ Horror
Ruination by Nick Bryan ~ @NickMB ~ Slice of Life
Rumplestilkstin by Catherine Russell ~ @ganymeder ~ Fantasy
S.H.A.R.K. Knight by Jack Holt ~ @jackkholt ~ Science Fiction
Shakespeare and a Ziplock Bag by John Wiswell ~ @Wiswell ~ Humor
Shark Knight by John Xero ~ @xeroverse ~ Magical Realism
Shifting Perspective by Amy Lee Burgess ~ @nightcircle ~ Paranormal ~ Serial ~ Debut
Soul Deals by Aidan Fritz ~ @AidanFritz ~ Fantasy
Sunday Moring Walks by Eric J. Krause ~ @ericjkrause ~ Unspecified
The Dorothy Delusion. Part 10 (of 11) by John Xero ~ @xeroverse ~ Thriller ~ Serial
The Nick Of Time (and other abrasions) Route d'abbaye -Track Three- Maxwell's Silver Hammer by Al Bruno III ~ @albruno3 ~ Paranormal ~ Serial
The Puppet by Icy Sedgwick ~ @icypop ~ Horror
The Unseen by Melissa L. Webb ~ @melissalwebb ~ Horror
The Vagrant (Part 15) by Peter Newman ~ @runpetewrite ~ Science Fiction ~ Serial
The Wardrobe by Helen A.Howell ~ @Helenscribbles ~ Horror
The Wizard's Prophecy, Chapter 18 by JB Starre ~ @JBStarre ~ Fantasy ~ Serial
Trinity's Decision by Susan Helene Gottfried ~ @WestofMars ~ Slice of Life ~ Serial
Unlikely Inspiration by Sonya Clark ~ @sonyabclark ~ Unspecified