February 7, 2012 in Community News, News Flash by Estrella Azul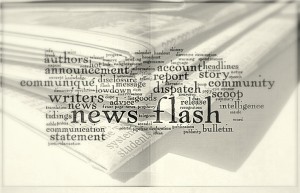 Linda Simoni-Wastila has last week's #fridayflash, "The Accidental Arsonist", featured at A Baker's Dozen, a new literary magazine with an eclectic aesthetic. She seems to have been busy, as she also has a poem, "Greetings From Motel 6″, in 2013 Poet's Market.
Dan Powell's short story, "Soiled", is featured in Issue 4 of Friction, Newcastle University's online journal for creative writing, theory and practice, which is now available for your reading pleasure.
~~~
Laurita Miller's blog, "Calling Shotgun", has taken third place in the Ninjamatics 2011 Canadian Weblog Awards. Go over and congratulate her as she proudly displays her bronze medal for the Best Weblog About Writing & Literature | Écriture et Littérature.
Congratulations to all!
~~~
If you are looking for the opportunity to contribute support to one of the finest writing communities by writing an article each month, which will be featured right here on the FFDO home page? And as a bonus get a little (international) name recognition for yourself? This is your chance! For all the details, make sure you read Editor E. D. Johnson's post about The FFDO A-Team.
~~~
This month, because I (Estrella Azul) really dislike the commercialism oriented-ness of February, I would like to adopt a Love Letter Bundle.  That means I'm turning to you with the question: Would you like to brighten someone's day with something as simple as words on paper? Please drop by and read the detailed blog post about this, over at my blog. And also, please share! Thank you in advance!
~ Estrella Azul
Keep the good news coming! You can send in your news items concerning the Friday Flash community to Estrella at estrella.azul@fridayflash.org or by contacting her on Facebook or Twitter. Or feel free to share your news by posting on the#fridayflash Facebook Group Page.