February 11, 2012 in FridayFlash Report by Tim VanSant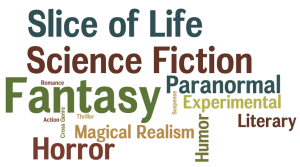 We had 51 stories in the Collector this week with 4 Debuts. Please welcome Alexandra Malmberg, Dan Waters, Paris Franz, and Enrique Garcia to the community. With the new options on the Collector we have 9 stories marked as being part of a series and 2 that have audio narration. The stories this week fall under 14 different genres including one each in Action, Cross Genre, Romance, Suspense, and Thriller. What a wonderfully diverse community we have!
Do you know a quick way to tell what genres are hot each week? I make that Wordle graphic at the beginning of the Report based on the stories in the Collector each week. Each genre is weighted based on how many times it was selected and those appear larger in the resulting image. So a glance at this week's Wordle tells us that most of the stories are Fantasy, Science Fiction, and Slice of Life. Did you know you can make your own Wordle images for free at http://www.wordle.net/?
As always, if your story is not in the listing below please go to the Collector and add the details. It will be in next week's listing. ~Tim
The Stories
Your heart belongs to me. by Helen A. Howell ~ @Helenscribbles ~ Horror ~ Narrated
Wrinkled Rockers by Joshua Londero ~ @judgewhisky ~ Experimental
Therapy for a Spell by JC Rosen ~ @JCRosen ~ Paranormal
The Wizard's Prophecy, Chapter 19 by JB Starre ~ @JBStarre ~ Fantasy ~ Serial
The Wave by Virginia Moffatt ~ @VirginiaMoffatt ~ Unspecified
The Void by ChrisWhiteWrites ~ @Chriswhitewrite ~ Magical Realism
The Violin by Enrique Garcia ~ @engarpresence ~ Horror ~ Debut
The Vagrant (Part 16) by Peter Newman ~ @runpetewrite ~ Science Fiction ~ Serial
The Offering by Sonia Lal ~ @soniawrite ~ Fantasy
The Nick Of Time (and other abrasions): Route d'abbaye Track Four 'Oh! Darling' by Al Bruno III ~ @albruno3 ~ Unspecified ~ Serial
The Machine by Rob Smales ~ @RobSmales ~ Horror
The Foot by Rachel Carter ~ @rachcarter ~ Science Fiction
The Dorothy Delusion. Part 11 (of 11). by John Xero ~ @xeroverse ~ Thriller ~ Serial
Ten Million Robots, One Heart by Tony Noland ~ @TonyNoland ~ Slice of Life
Sad Wednesday by Luke Wortley ~ @LukeWortley ~ Literary
Roadie Poet: Peach Guts by Susan Helene Gottfried ~ @WestofMars ~ Slice of Life ~ Serial
Ritual by D. Paul Angel ~ @D_PaulAngel ~ Humor
Ready Salted Failure by Nick Bryan ~ @NickMB ~ Slice of Life
Rain by Gail Aldwin ~ @gailaldwin ~ Romance ~ Serial
Rachel by Sylvia van Bruggen ~ @sylviavbruggen ~ Fantasy
Question Mark by Amy Lee Burgess ~ @nightcircle ~ Paranormal
One More Night by Carole Gill ~ @carolelynngill ~ Horror
Never Sample the Peddler's Wares by Aaron Conaway ~ @M_Gideon ~ Fantasy
Neurosynaptic Spider by Aidan Fritz ~ @AidanFritz ~ Science Fiction
More than dreams (Part 1) by Steve Green ~ Science Fiction ~ Serial
Missing by Emma Newman ~ @emapocalyptic ~ Magical Realism ~ Narrated
Message From Beyond by T.K. Millin ~ @tkmillin ~ Science Fiction
Making Her by John Wiswell ~ @Wiswell ~ Experimental
It Happened One Night by Danielle La Paglia ~ @Dannigrrl5 ~ Humor
Homeland Security by Colin James ~ @crjames@ ~ Action
Her First Monet by Paris Franz ~ @Paris_Franz ~ Slice of Life ~ Debut
Godkiller by Kari Fay ~ @morganafiolett ~ Fantasy
Floorspaces by Fernando H. Stevens ~ @FernandoHSteven ~ Science Fiction
Five Minutes Alone by Carrie Clevenger ~ @carrieclevenger ~ Cross Genre
Fallout by Jack Holt ~ @jackkholt ~ Unspecified
Fairy Godparents by Anke Wehner ~ @Anke ~ Fantasy
Exercise by Chris Munroe ~ @munsimunsi ~ Humor
Even Demons Get The Blues by Sonya Clark ~ @sonyabclark ~ Paranormal
Drank by John Xero ~ @xeroverse ~ Magical Realism
Cy by Tim VanSant ~ @TimVanSant ~ Literary
Class Outing by Nerine Dorman ~ @nerinedorman ~ Fantasy
Candle Light by Dan Waters ~ Suspense ~ Debut
Bunraku for the warrior: Under the sakura tree by Cindy Vaskova ~ @Raptamei ~ Experimental
Blood for Blood by Anne Michaud ~ @annecmichaud ~ Unspecified ~ Serial
Blood Bank by Justin Davies ~ @flyingscribbler ~ Unspecified
Bedtime Story by Chris Morton ~ @chrris9 ~ Slice of Life
Anonymous by Icy Sedgwick ~ @icypop ~ Horror
An Existential Conversation: Tribute to Jorge Luis Borges by Luke Wortley ~ @LukeWortley ~ Literary
A Taste of Rainbow by Alexandra Malmberg ~ @quoting_mungo ~ Paranormal ~ Debut
A Game of Chess Pt. 4 – Castle the King by Angie C. ~ @techtigger ~ Fantasy ~ Serial
A Fight for Respect by Brainhaze ~ @brainhazewp ~ Slice of Life