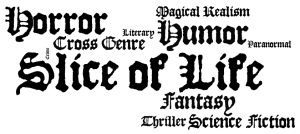 We had 58 stories in the Collector this week with 5 Debuts. Please welcome Evangeline Warren, Natalie Wood, Austin Malone, Steve Lakey, and Paul Weimer to the community. The stories this week fall under 11 different genres; the most common this week are Slice of Life, Horror, and Humor. What a wonderfully diverse community we have!
We tried a little upgrade to the Collector this week. FFDO members who are logged in can have their Name and Twitter ID automatically entered into the form. The next phase in improving the Collector is to read the RSS feed from your website and pull the Title and Address of your most recent post (on the assumption that that will be your #FridayFlash). It should work for most of you most of the time, but while we debug the script we'll be displaying the information above the form rather than entering it into the form. Ultimately, members should find most of the form filled in automatically each week and need only specify the genre and whether they have a narrated or serial piece. Read this page to make sure your profile information is formatted correctly to take advantage of the upgrade. Of course, membership on this site is never required to participate in our weekly #FridayFlash, but we hope you'll consider joining. And if you're already a member, we hope you'll find the upgraded Collector a nice little benefit.
As always, if your story is not in the listing below please go to the Collector and add the details. It will be in next week's listing. ~Tim
The Stories
Why My Homework Isn't Done by Melissa L. Webb ~ @melissalwebb ~ Unspecified
Who Stole It? by Kari Fay ~ @morganafiolett ~ Humor
What's the clue: Stop Now! or Keep on Going! ? A true story by Deanna Schrayer ~ @deannaschrayer ~ Unspecified
War of the classes by Shen Hart ~ Humor
Waiting by Gail Aldwin ~ @gailaldwin ~ Literary
Truth about terror by Cindy Vaskova ~ @Raptamei ~ Horror
Too Late by Rosalind Smith-Nazilli ~ @mrsnazilli ~ Cross Genre
The Wizard's Prophecy, Chapter 21 by JB Starre ~ @JBStarre ~ Fantasy ~ Serial
The Vagrant (Part 18) by Peter Newman ~ @runpetewrite ~ Science Fiction ~ Serial
The Rise of the Phoenix: Introduction by Evangeline Warren ~ @Alinzar ~ Unspecified ~ Serial ~ Debut
The New Arrival by Paris Franz ~ @Paris_Franz ~ Slice of Life
The Fetish Garden by Marc Nash ~ @21stCscribe ~ Literary
The Curiosity Shop by Lisa McCourt Hollar ~ @jezri1 ~ Paranormal
Sword by Paul Weimer ~ @princejvstin ~ Fantasy ~ Debut
Shock Treatment by Clive Martyn ~ @clivem ~ Slice of Life
She's A Blooming Pain by Helen A. Howell ~ @Helenscribbles ~ Humor
She Smiles by Lisa Vooght ~ @ficflash ~ Slice of Life
She Is, She Really Is by Katherine Hajer ~ @eyrea ~ Magical Realism
Schrodinger by Rob Smales ~ @RobSmales ~ Unspecified
Ringtone, ringtone by Tony Noland ~ @TonyNoland ~ Thriller
Rightful Inheritance by Annie Evett ~ @AnnieEvett ~ Unspecified
Power Play by Amy Lee Burgess ~ @nightcircle ~ Slice of Life
Paying the Price by John Xero ~ @xeroverse ~ Cross Genre
Our Generation by Chris Morton ~ @chrris9 ~ Slice of Life
One Night Glove Affair by Steve Lakey ~ @shyrewode ~ Humor ~ Debut
On the Deathbed of Carl Rudolph by John Wiswell ~ @Wiswell ~ Humor
Old Wolves by Joyce Chng ~ @jolantru ~ Paranormal
Never Broken by Danielle La Paglia ~ @Dannigrrl5 ~ Slice of Life
More than dreams (Part 3) by Steve Green ~ Unspecified ~ Serial
Monsters by John Xero ~ @xeroverse ~ Horror
Monster Mash by Carole Gill ~ @carolelynngill ~ Horror
Memory Lane by Nerine Dorman ~ @nerinedorman ~ Slice of Life
Memory by J. Dane Tyler ~ @darcknyt ~ Slice of Life
Magic Hack by Sonya Clark ~ @sonyabclark ~ Cross Genre
Kneel by Icy Sedgwick ~ @icypop ~ Horror
Karma by Carrie Clevenger ~ @carrieclevenger ~ Thriller
Joey by Jack Holt ~ @jackkholt ~ Science Fiction
J.P. Worthett, Consulting Detective by Tim VanSant ~ @TimVanSant ~ Cross Genre
It's The Not Knowing by Lisamarie Lamb ~ @lisamarie20010 ~ Horror
Hunted by Rebecca L Dobbie ~ @rebeccaldobbie ~ Thriller ~ Serial
How Squishel Averted the Abroccolypse by Austin Malone ~ Science Fiction ~ Debut
Hero's Haven by Luke Wortley ~ @LukeWortley ~ Horror
Cravings by Anke Wehner ~ @Anke ~ Magical Realism
Coming of Age by Emma Newman ~ @emapocalyptic ~ Magical Realism ~ Narrated
Changing by Dan Waters ~ Horror
Cancel My Labor by Susan Helene Gottfried ~ @WestofMars ~ Slice of Life ~ Serial
Caged Bird by Leonard White ~ @leonard_white ~ Horror
Breaking Up by Aidan Fritz ~ @AidanFritz ~ Science Fiction
Blackouts by Chris Munroe ~ @munsimunsi ~ Humor
Bitter Herb by Fernando H. Stevens ~ @FernandoHSteven ~ Fantasy
Andys side of the story by Beckah ~ @skiandboots ~ Crime ~ Serial
Ahab Amor by Annie Evett ~ @AnnieEvett ~ Unspecified
A Game of Chess – Endgame by Angie C. ~ @techtigger ~ Fantasy ~ Serial
A cat in the alley by Enrique Garcia ~ @engarpresence ~ Fantasy
A Brush With Death by Justin Davies ~ @flyingscribbler ~ Humor
'Lest We Forget' by Natalie Wood ~ @natalieiwood ~ Slice of Life
'Jack and the Glory' by Natalie Wood ~ @natalieiwood ~ Slice of Life ~ Debut
The Nick Of Time (and other abrasions): Route d'abbaye Track Six- I Want You (She's So Heavy) by Al Bruno III ~ @albruno3 ~ Unspecified ~ Serial
.
Follow Friday Flash Fiction on Twitter, Facebook, and Google+