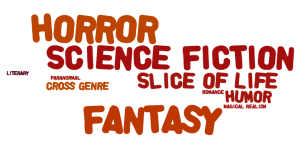 We had 40 stories in the Collector this week with 1 Debut. Please welcome Janel Gradowski to the community. The stories this week fall under 10 different genres; the most common this week are Fantasy, Horror, and Science Fiction. What a wonderfully diverse community we have!
Based on a review of the I Write #FridayFlash page, I've added a couple more genres to the Collector form: Noir, Non-Fiction, and Urban Fantasy. Since it remains the intention of Friday Flash to present flash fiction, I hesitated to include Non-Fiction as a choice. But I recognize that we sometimes write memoir or real-life events of interest to the Friday Flash community. And real life sometimes makes for a pretty good story. As long as those are still within our recommended limit of 1000 words or less, I want you to be able to label them accurately.
As always, if your story is not in the listing below please go to the Collector and add the details. It will be in next week's listing. ~Tim
The Stories
A Future History by ChrisWhiteWrites ~ @chriswhitewrite ~ Science Fiction
Astronauts Beyond Space! by Nick Bryan ~ @NickMB ~ Humor
Awakening by Janel Gradowski ~ @JanelGr ~ Slice of Life ~ Debut
Bearing Witness by Anke Wehner ~ @Anke ~ Horror
Calico by Catherine Russell ~ @ganymeder ~ Humor
Clown Scare Ya? Just Say No! by Carole Gill ~ @carolynngill ~ Horror
Coffin by Chris Munroe ~ @munsimunsi ~ Slice of Life
Colonisation by John Xero ~ @xeroverse ~ Science Fiction
Dinosaurs in the Duckpond by Tony Noland ~ @TonyNoland ~ Humor
Era of Creation by Luke Wortley ~ @LukeWortley ~ Fantasy ~ Serial
Fallen by Dan Waters ~ Fantasy
Fallout: Luck by Jack Holt ~ @jackkholt ~ Science Fiction
Folded by Steve Green ~ Unspecified
Fragments from the past by Cindy Vaskova ~ @Raptamei ~ Magical Realism
Hindsight by Beverly ~ @Bevimus ~ Unspecified
It's Going to be a Long Night by John Wiswell ~ @Wiswell ~ Fantasy
Kibera Slum by Aidan Fritz ~ @AidanFritz ~ Science Fiction
Klavier by Kari Fay ~ @morganafiolett ~ Unspecified
Lonely Shadows by Icy Sedgwick ~ @icypop ~ Paranormal
Mirrorball by Marc Nash ~ @21stCscribe ~ Literary
Next Stop: Hell by Eric J. Krause ~ @ericjkrause ~ Horror
North Eastern Promise by COLIN JAMES ~ @COLIN JAMES ~ Fantasy
Overpopulation by Richard Bon ~ @LiminalFiction ~ Slice of Life
Overused and Abused by Annie ~ @AnnieEvett ~ Cross Genre
Red and White by Shen Hart ~ Unspecified
Send in the Clowns by Rib Smales ~ @RobSmales ~ Horror ~ Serial
Shopping Basket Romance by David D Sharp ~ @aweeadventure ~ Romance
Some Things Are Better Left Buried by Amy Lee Burgess ~ @nightcircle ~ Horror
Something About Tennis by Chris Morton ~ @chrris9 ~ Unspecified
The Carrier by Tim VanSant ~ @TimVanSant ~ Horror
The Juggler by Ryan Hill ~ @Mr_RyanHill ~ Unspecified
The Miller's Daughter by Emma Newman ~ @emapocalyptic ~ Fantasy ~ Narrated
The Nick Of Time (and other abrasions): Route d'abbaye Track Seven- Here Comes The Sun by Al Bruno III ~ @albruno3 ~ Fantasy ~ Serial
The Referee by T.J. McIntyre ~ @southernweirdo ~ Horror
The Sharks of Old London by John Xero ~ @xeroverse ~ Science Fiction
The Vagrant (Part 19) by Peter Newman ~ @runpetewrite ~ Science Fiction ~ Serial
The Wizard's Prophecy, Chapter 22 by JB Starre ~ @JBStarre ~ Fantasy ~ Serial
They call me Jack by HelenHowell ~ @Helenscribbles ~ Cross Genre ~ Narrated
Under and Out by Rosalind Smith-Nazilli ~ @mrsnazilli ~ Slice of Life
What Could Have Been by Fernando H. Stevens ~ @FernandoHSteven ~ Unspecified
.
Follow Friday Flash Fiction on Twitter, Facebook, and Google+