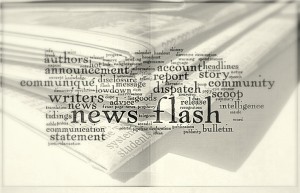 G. P. Ching's third book in the Soulkeepers series, "Return to Eden", is now available on Amazon, Barnes and Noble, Smashwords for the introductory price of $2.99.
Over at Icy Sedgwick's Blunt Pencil blog, Tony Noland is discussing the idea behind  "Grey Ghost Gone", one of the flash fiction stories that appears in his anthology, "Blood Picnic". Read Tony's thoughts about the story and why he wrote it, over in the blog post.
Dana Sitar talks about five valuable lessons she learned from crappy day jobs, in her guest post over at Job Talk NJ.
Congrats all!
~~~
Easily Mused have a contest up and running. They are giving away a $30 amazon gift card to the person who comes up with the best name for their new Literary Magazine. Inspired? Go enter the contest right here.
Break a leg!
~ Estrella Azul
Keep the good news coming! You can send in your news items concerning the Friday Flash community to Estrella at estrella.azul@fridayflash.org or by contacting her on Facebook or Twitter. Or feel free to share your news by posting on the#fridayflash Facebook Group Page.