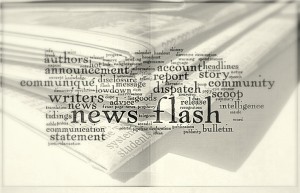 Jodi Macarthur's flash, "Tap", has a place in the 9 Days of Madness over at The Leaky Pencil.
Featured at Bibliophilic Blather was  "Precious Sleep", Janel Gradowski's #fridayflash for last week.
Virginia Moffatt's flash fiction piece, "Following the Real Miss Piggy", is being published in a pamphlet to accompany the Manchester based Blank Media Collective's "Inside" art exhibition.
On the Bookbag website, Marc Nash was interviewed about his writing.
Congratulations to all!
~~~
Tim Van Sant has some news regarding the "I write#FridayFlash" badge page here on FFDO. Expect that in a full post on Thursday.
~ Estrella Azul
Keep the good news coming! You can send in your news items concerning the Friday Flash community to Estrella at estrella.azul@fridayflash.org or by contacting her on Facebook or Twitter. Or feel free to share your news by posting on the#fridayflash Facebook Group Page.