March 29, 2012 in Community News, How-To, Tech by Tim VanSant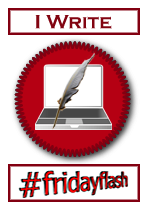 You've probably seen this badge around as you visit sites reading #FridayFlash. When our editor, E. D. Johnson, instituted the program last summer it was always our intention to streamline the process. We're making some steps in that direction. Today we are unveiling our new and improved I Write #FridayFlash Badge page. This page has two significant improvements over the old version: the list of authors is sortable and searchable and you can add yourself to the list.
Participating Authors
The list of participating authors is now in a table that you can sort by genre or author's name just by clicking on the heading at the top of the column. Clicking again reverses the order. You can then shift-click another column heading to sort the results. And what I think is the best feature is the search function. Start to type a word in the search box and all the columns are dynamically filtered. So, for example, if you're in the mood for something funny you could type humor in the search box and see only those authors who have that listed. Want to know who writes funny and scary? Just leave a space and enter another search term like horror and you'll find there are a few authors in our community who list both.
As much as I love this improvement, it did come at a cost. On the old page, you could click the author's name to go to their website. I've had a devil of a time trying to get that to work in the new format. I'll keep working on it and plan to add that in later. In the meantime, if anyone has experience with jQuery Datatables on a WordPress site, I could use some technical assistance. BTW, we're working on a similar table for listing #FridayFlash stories. We hope to have that ready later this year.
Add Your Name to the List
On the old page you had to leave a comment when you had the badge in place on your site and then E.D. or someone on our tech team had to edit our page to add you to the list. Now we have a form similar to the one we use for the Collector and you can add yourself. And, like the Collector, if you are a member here at FFDO I set it up to read your Name, Email address, and Website address from your profile to save you a few seconds filling in the form. There was a slight trade-off here too. The genres listed are the same as those on the Collector (except there's no "Unspecified" category here, it's just blank instead). I did recently add a few genres to the Collector to match some of the choices you made, but I didn't add them all. It's something of a balancing act to provide a comprehensive selection that is still manageable in size. We are, of course, open to suggestions for amending the list. Let us know in the comments how we can improve it.
If I made a mistake in transferring your information into the new table or if you want to change it for any reason (for example if you get a new web address or you want to change genres or the order of your genres) use the form to enter the new information. When I see a duplicate name, I'll assume the new entry is correct and delete the old entry. (Only one listing will be provided for each author with up to three genres.) Also you should know that when I updated the list I looked for the badge displayed and linked correctly at the address listed. There were a couple sites that no longer exist and a few that apparently no longer display the badge, so I removed them from the list. If the link was not correct, I sent you an email requesting that you update your site. (Instructions are on the badge page. Let us know if you need technical assistance. The correct URL is http://fridayflash.org/press/badges/i-write-fridayflash-badge/)
Oh, and if you participate in #FridayFlash and have your own blog or website but you don't have a badge yet, go get one now!
~ Tim