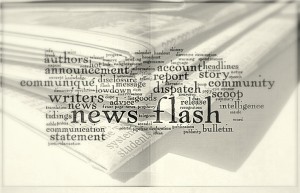 Nadine Maritz was interviewed at Real Vampire News, and offer us further insights into the literary figure that the "new" vampires have become. Congrats, Nadine!
John Wiswell's newest podcast, "Consumed: Spoiled – Just don't (Mass Effect) 3″ is available for listening and free download. This episode is all about BioWare's controversial release of Mass Effect 3. Well done, John!
If you are looking for writing prompts, check out Maria Kelly's here or Eric J. Krause's here from their blogs. Thanks, Maria and Eric!
~~~
In case you missed it last week, here is some information Tim VanSant offered regarding our I write Friday Flash Badge page here on FFDO. We are pleased with the responses!
E.D. Johnson managed to write a wonderful, highly believable, article this past Sunday, which just so happened to be April 1st. For a laugh, go read BOFF 3 Submissions.
~~~
Now it is time for a quick reminder: I occasionally beg ask you guys on Twitter, FB and G+ to send in your own news items. That is because I am prone to miss some of your news items as life tends to happen (while holding down all three of my current jobs), and can get crazy busy sometimes. Please keep the good news coming in order for the NewsFlash to be filled with all of your wonderful achievements! It would help me out so much if you did so. You can send in your own, or even another #fridayflash member's, news items concerning the Friday Flash community to me, Estrella, at estrella.azul@fridayflash.org or by contacting me on Facebook or Twitter. Or feel free to share your news by posting it on the#fridayflash Facebook Group Page. 
Looking forward to hearing from you. Thanks!
~ Estrella Azul