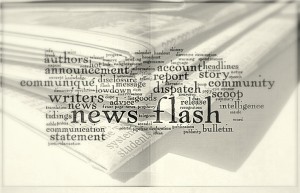 Kevin J. Mackey's fantasy story, "A Song of Danard", was featured over at Short-Story.me last week.
Jodi Cleghorn has a story, "Intersected", in the newly available second issue of Vine Leaves Literary Journal (on page 17).
Adam Byatt and Jodi Cleghorn are launching a collaborative project on 10 April called Post Marked: Piper's Reach. They visited a few #FridayFlash participants on their pre-release Blog Tour. You can catch up on the tour and learn more about the project at their website, Post Marked: Piper's Reach.
Rebecca Emin has the Facebook event up for the official launch of "When Dreams Come True", her second novel, on 28 May.
Susan Helene Gottfried invites us all along for the release of "King Trevor", the much-anticipated follow-up to "Trevor's Song", on April 12. Here are the Amazon and Smashwords links.
~~~
"Literary Mix Tapes" flashes turned into short films? You read that correctly. Here is the scoop on things, over at Write Anything.
Congratulations to all!
~ Estrella Azul
Keep the good news coming! You can send in your news items concerning the Friday Flash community to Estrella at estrella.azul@fridayflash.org or by contacting her on Facebook or Twitter. Or feel free to share your news by posting on the#fridayflash Facebook Group Page.