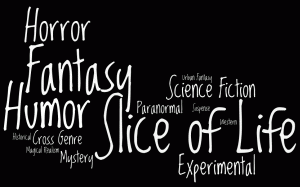 We had 51 stories in the Collector this week with 2 Debuts. Please welcome Kayla Swanson and Emma to the community. The stories this week fall under 14 different genres, including one each in Historical, Magical Realism, Suspense, Urban Fantasy, and Western. What a wonderfully diverse community we have!
In our effort to better serve the Friday Flash community we have been working behind the scenes to improve the performance of the website and developing new content. I'll have a report on the technical stuff when we finish ironing out a few issues. Make sure you read Catherine Russell's post on Podcasting. We have some other members of the community waiting in the wings and will be rolling out those posts in the coming weeks. And don't forget to check out Estrella Azul's weekly News Flash. She has contact info at the bottom of every post so you can add your good news to share with the rest of us.
As always, if your story is not in the listing below please go to the Collector and add the details. It will be in next week's listing. ~Tim
The Stories
Welcome to Potirissi by Kathryn Eastman ~ @katheastman ~ Humor
Weather by Sylvia van Bruggen ~ @sylviavbruggen ~ Fantasy
Vault of Lost Voices by Icy Sedgwick ~ @icypop ~ Fantasy
Touch Wood by Nick Bryan ~ @NickMB ~ Humor
The Wizard's Prophecy, Chapter 33 by JB Starre ~ @JBStarre ~ Fantasy ~ Serial
The Weather Forecast by Kari Fay ~ @morganafiolett ~ Unspecified
The Present Is a Foreign Country by Natalie Bowers ~ @nembow ~ Magical Realism
The Nick Of Time (and other abrasions) Route d'abbaye Track Fifteen Carry That Weight by Al Bruno III ~ @albruno3 ~ Paranormal ~ Serial
The House by Helen A. Howell ~ @Helenscribbles ~ Paranormal ~ Narrated
The Golden Quest by Jeffrey Hollar ~ @klingorengi ~ Cross Genre
The Cleansing by Leigh Andrews ~ @Leigh_Andrews ~ Slice of Life
The Cat with the Golden Monocle by Craig Smith ~ @CraigWFSmith ~ Humor
Swingin' To Live by Jeffrey Hollar ~ @klingorengi ~ Horror
Sticks and Stones, Part 2 by Jack Holt ~ @jackkholt ~ Science Fiction ~ Serial
Something is Wrong in the Forest by John Xero ~ @xeroverse ~ Fantasy
Socks by Gail Aldwin ~ @gailaldwin ~ Slice of Life
Roadkill by Larry Kollar ~ @FARfetched58 ~ Unspecified
Princess Leisha by Fayne Riverdale ~ @FayneRiverdale ~ Fantasy
Presidential Address by Daniel Ritter ~ @reginaldgolding ~ Science Fiction
Panic Room by Chris Munroe ~ @munsimunsi ~ Suspense
One Vision by Angie C. ~ @techtigger ~ Fantasy ~ Serial
My Wife and I Argue over our Travel Plans (Hey, I'm not Cheap but…) by Alex Carrick ~ @Alex_Carrick ~ Humor
Merry Dead Soul by W. J. Howard ~ @by_wjhoward ~ Horror
Me, Myself and I by Leonard White ~ @leonard_white ~ Horror
Maybe They've Stopped Using Stamps by John Wiswell ~ @Wiswell ~ Humor
Madie: Playing Nurse by Marsha Loftis ~ @marshaloftis ~ Urban Fantasy ~ Serial
Lord HaHa by Tim VanSant ~ @TimVanSant ~ Humor
Listen by John Xero ~ @xeroverse ~ Experimental
Job sorted by Steve Green ~ Unspecified
Jet Pack by John Pender ~ @johnlpender ~ Unspecified
Jail bait by Steve Green ~ Unspecified
Garden Secretary for Chicago's 732nd District by Aidan Fritz ~ @AidanFritz ~ Science Fiction
Game Over by Denis Doran ~ Mystery
Everyday Fear Of Monsters by Anke Wehner ~ @Anke ~ Unspecified
English Slacker extract – a dream by Chris Morton ~ @chrris9 ~ Experimental
Dust Settles On Us All – Friday Flash by Melissa L. Webb ~ @melissalwebb ~ Horror
Dust Devils' Lawn by Sonia Lal ~ @soniawrite ~ Fantasy ~ Serial
Dust and Dime Novels by Catherine Russell ~ @ganymeder ~ Western
Do You Remember Me? by Katherine Hajer ~ @eyrea ~ Slice of Life
Divergent Places by Jeffrey Hollar ~ @klingorengi ~ Unspecified
Dandy in the Underworld, Part 2 – Are Friends Electric? by Elizabeth Myrddin ~ @emyrdd ~ Cross Genre ~ Serial
'City's Blue Moon Shines On Israel' by Natalie Wood ~ @natalieiwood ~ Slice of Life
Charm in a Bottle (Adult Content Warning) by Rob Smales ~ @RobSmales ~ Horror
Bush Fire by Brinda Banerjee ~ @modscheherzade ~ Experimental
Boots and Simnel Cake by Annie ~ @AnnieEvett ~ Historical
Bone China by Emma ~ @sciwriby ~ Slice of Life ~ Debut
Beautiful Creature by Tony Noland ~ @TonyNoland ~ Slice of Life
Awake by Jen Brubacher ~ @jen_b ~ Slice of Life
Anecdotes of a Sunday Afternoon by Kayla Swanson ~ @KSINTHOR ~ Humor ~ Debut
All About Me by Rebecca Emin ~ @RebeccaEmin ~ Slice of Life
A Theory Too Far Part 12 by Dan Waters ~ @Maulus ~ Mystery ~ Serial
.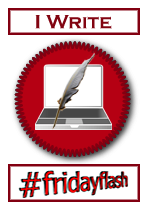 Follow Friday Flash Fiction on Twitter, Facebook, and Google+
.
All participants in #FridayFlash may place one of these I Write #FridayFlash Badges (shown here at half-size) on their personal web site or blog. Click over to this page for details