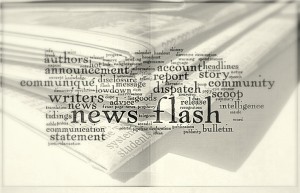 Helen Howells  #fridayflash last week, "Taken", was her entry into the last of Lily Child's Friday Predictions for May 11th.  The challenge was to use the words Psycho–Purgatory–Belt in a no more than a 100 words long story. Helen's story was placed runner up in this challenge.
Richard Bon's story, "NOLA to Philly", was recently accepted by one of his favorite flash fiction publications, Pure Slush, as part of this month's cities theme.
Jodi MacArthur is humbled and proud to have a story included in "Beat to a Pulp Round 2″. You can pick up your copy at Amazon or CreateSpace.
Donna and Alex Carrick were interviewed by "The Voice", John Rakestraw, for his show The Platform last week. Here is the link. Click on the arrow in the blue "blogtalkradio" box, plus there's a link to another 15 minutes after the official broadcast set out below at the site.
Rebecca Emin was  over being interviewed on Chris Morton's blog, Flash Fiction and Other Stories, this weekend. While you are there, feel free to sign up for the launch party for "When Dreams Come True" which is taking place on 28th May.  Rebecca is hoping everyone will have some amusing dream stories to share!
Carrie Clevenger guest blogged on Tombstone Tails, where she revealed the three things that led to "Crooked Fang", in music.
In my latest travel article over at Milliver's Travels, I (Estrella Azul) wrote about The Salt Mines of Turda. Hope you will join me walking down a corridor of salt to explore the mines.
Congrats to all!
~ Estrella Azul
Keep the good news coming! You can send in your news items concerning the Friday Flash community to Estrella at estrella.azul@fridayflash.org or by contacting her on Facebook or Twitter. Or feel free to share your news by posting on the#fridayflash Facebook Group Page.