June 9, 2012 in FridayFlash Report by Tim VanSant

We had 59 stories in the Collector this week with 3 Debuts. Please welcome K.L. Coones, Bryan Mitchell, and L. G. Keltner to the community. The stories this week fall under 14 different genres, including one each in Crime, Cross Genre, Mystery, and Thriller. What a wonderfully diverse community we have!
I often notice that similarities in titles and themes appear serendipitously in the stories entered each week. Last week, for example, we had Fish Stories, The Fishermen, The Fishwives, Red herrings: listen within, and In the Shadow Of the Valley Of Whales. [Yes, I know that whales are not fish. Humor me.] Also last week we had A Bird Fossil Made Out Of Rubbish, Magpie's Nest, Robins in Spring, and Secret War of the Birds. Does it mean anything that this week we have Four dead birds? Anyway, this week we have a spate of one-word titles: Blogging, Censorship, Cockcrow, Friends, Gamer, Gnome, Hell, Hitching, Predation, Ruthless, Seeds, Splash, Traitor, and Unseen. Taken together, they could make an interesting writing prompt, I think. Were I to make a game of it [and I have, sort of] I could find several other connections. None of this really matters, of course. It is just my brain being its usual weird self.
We continue our efforts to bring you interesting and useful original content with this week's post Technical Trick for the Mobile Author by FFDO editor E. D. Johnson. Give it a read. And remember to keep the community news flowing through our weekly News Flash.
As always, if your story is not in the listing below please go to the Collector and add the details. It will be in next week's listing. ~Tim
The Stories
'A Poet's Heart' by Natalie Wood ~ @natalieiwood ~ Experimental
A train to catch by Alex Tomlin ~ @tomo4242 ~ Crime
Bits and Bullets by K.L. Coones ~ @KLCoones ~ Unspecified ~ Debut
Black Cloaks by Dan Waters ~ @Maulus ~ Mystery
Blogging by Christopher Munroe ~ @munsimunsi ~ Humor
Censorship by John Wiswell ~ @Wiswell ~ Slice of Life
Cockcrow by Rachel Blackbirdsong ~ @RBlackbirdsong ~ Literary
Coming Home by Jeffrey Hollar ~ @klingorengi ~ Slice of Life
Control Panels by Chris Morton ~ @chrris9 ~ Science Fiction
Critical Thinking Exercise by Jeffrey Hollar ~ @klingorengi ~ Horror
Estate Planning for the Undead, Part 2 [of 3] – Vampires by Tim VanSant ~ @TimVanSant ~ Humor ~ Serial
Forever young by Mrs G ~ @Mme_G ~ Horror
Four dead birds by Cindy Vaskova ~ @Raptamei ~ Fantasy
Freshly Squeezed Orange Juice by Richard Bon ~ @LiminalFiction ~ Slice of Life
Friends by Charlotte ~ @CharlotteC42 ~ Thriller
Gamer by Rob Smales ~ @RobSmales ~ Horror
Gnome by Sylvia van Bruggen ~ @sylviavbruggen ~ Fantasy
Hand Writing by Adam Byatt ~ @revhappiness ~ Experimental
Hell by John Xero ~ @xeroverse ~ Science Fiction
Hitching by Gail Aldwin ~ @gailaldwin ~ Unspecified
It's in the Blood by Rob Smales ~ @RobSmales ~ Horror
Jim The Invincible by Gayle Beveridge ~ @GayleBeveridge ~ Horror
Middle Mass by Marc Nash ~ @21stCscribe ~ Literary
Miss Briana by Stephen Hewitt ~ @ThoughtMonkeyZ ~ Magical Realism
Nonesuch: A Satire by DJ Young ~ @dijeratic ~ Humor
O Fortuna by DJ Young ~ @dijeratic ~ Literary
Of Studs and Kings by Bryan Mitchell ~ Unspecified ~ Debut
One Percent by David Grigg ~ @thenarratorium ~ Suspense
Owed Tae Tam Leonard by Tom Gillespie ~ @tom_gillespie ~ Slice of Life
Predation by Helen A. Howell ~ @Helenscribbles ~ Science Fiction ~ Narrated
Ruthless by Stewart Harding ~ @stukulele ~ Slice of Life
Scattered on the Wind by Denis Doran ~ Slice of Life
Seeds by Aidan Fritz ~ @AidanFritz ~ Horror
Sensory deprivation by Steve Green ~ Unspecified
Sometimes the end , is merely a new beginning by Nadine Maritz ~ @Roguesavamp ~ Horror ~ Serial
Splash by Jen Brubacher ~ @jen_b ~ Slice of Life
Star Double-Cross'd by Jeffrey Hollar ~ @klingorengi ~ Science Fiction
Story-Maker's Faire by Katherine Hajer ~ @eyrea ~ Cross Genre
That Day by Rebecca Emin ~ @RebeccaEmin ~ Slice of Life
The Absurdity Part 1 by L. G. Keltner ~ @LGKeltner ~ Science Fiction ~ Serial ~ Debut
The Absurdity Part 2 by L. G. Keltner ~ @L.G. Keltner ~ Unspecified ~ Serial
The Absurdity Part 3 by L.G. Keltner ~ @L.G.Keltner ~ Science Fiction ~ Serial
The Emperor's New Clothes by Tony Noland ~ @TonyNoland ~ Literary
The Further Chronicles of Mars by Alison Wells ~ @alisonwells ~ Science Fiction
The Good Olde Days by Fernando H. Stevens ~ @FernandoHSteven ~ Fantasy
The Grinning by Meliss L. Webb ~ @melissalwebb ~ Horror
The Harbinger by Jeremy Warach ~ @jwarach ~ Suspense
The Prince and the Frog by Craig Smith ~ @CraigWFSmith ~ Humor
The Ultimate Disclaimer by Larry Kollar ~ @FARfetched58 ~ Humor
The Unexpected Visitor by Jack Holt ~ @jackkholt ~ Slice of Life
The Usurper by Icy Sedgwick ~ @icypop ~ Paranormal
The Wizard's Prophecy, Chapter 36 by JB Starre ~ @JBStarre ~ Fantasy ~ Serial
Three Moments of Defeat by Kevlin Henney ~ @KevlinHenney ~ Unspecified
To Love A Stranger by John Pender ~ @johnlpender ~ Science Fiction
Traitor by Harry Tennison ~ @Harry_Tennison ~ Unspecified
Unfinished Business by Anke Wehner ~ @Anke ~ Magical Realism
Unseen by Maria Protopapadaki-Smith ~ @mazzz_in_Leeds ~ Horror
Walking In The Garden by Kari Fay ~ @morganafiolett ~ Paranormal
War Torn part 2 (of 2): Angel by John Xero ~ @xeroverse ~ Science Fiction
.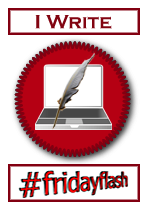 Follow Friday Flash Fiction on Twitter, Facebook, and Google+
.
All participants in #FridayFlash may place one of these I Write #FridayFlash Badges (shown here at half-size) on their personal web site or blog. Click over to this page for details