June 26, 2012 in Community News, News Flash by Estrella Azul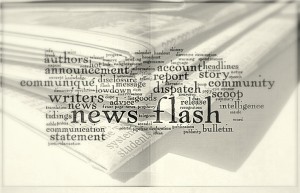 You can read about Tom Gillespie's forthcoming novel, "Painting by Numbers", on the Crooked Cat website. Tom also just posted the launch event of his novel on Facebook, so if you have an account, go RSVP.
Deborah Rickard has been thrilled by two recent successes; first she was shortlisted for the Fish Flash Fiction Award 2012, and then heard that one of her stories reached the final fifteen of the Bridge House Publishing Competition and will be published in their 2012 charity anthology.
"The Shock", Jen Brubacher's story, has been published last week at AE-The Canadian Science Fiction Review.
Jodi Cleghorn has quite a bit of news to share, from a Christmas in July launch of "Deck the Halls" to "Dead Red Heart" in which Jodi has a story placed winning  Best Edited Work at the Australian Shadows Awards. Go to her blog post to read about the rest of her great news!
Several fellow #fridayflash writers (Tony Noland, Rebecca Emin, Sam Adamson, Jodi Cleghorn, Jim Bronyaur and Maria Kelly) have short stories and flash fiction pieces in "Scribble & Scatter: Sunday Snaps: the Stories" which will be out in August 2012. (Please let me know in the comments below if I overlooked someone from this list and I'll update the NewsFlash to include your name. Thanks!)
~~~
Natalie Bowers informed us that her flash-fiction site, 1000words, is now open again to submissions. They're looking for previously unpublished flash-fiction of between 100 and 1000 words in length that have been written in response to the images on their Pinterest board. Here are the submission guidelines.
~ Estrella Azul
Keep the good news coming! You can send in your news items concerning the Friday Flash community to Estrella at estrella.azul@fridayflash.org or by contacting her on Facebook or Twitter. Or feel free to share your news by posting on the#fridayflash Facebook Group Page.