July 3, 2012 in Community News, News Flash by Estrella Azul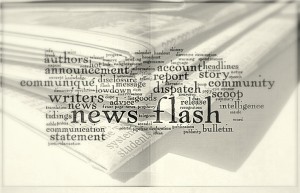 Linda Simoni-Wastila talked about a world without poetry, over at JMWW Blog.
Last week, Benjamin Gorman had his #fridayflash, "Parallel and Perpendicular", featured over at Amwriting.Org.
Natalie Bowers is trying to get #flashpoints up and running again which is a site-specific mass flash-fiction project that was set up for National Flash-Fiction Day. As Natalie said, you basically go somewhere, write something, then leave it in place for someone else to enjoy.
Living Loving and Writing, Laura Besley's blog, has been nominated for a 'Liebster' blog award. Go congratulate her!
Congrats to all!
~ Estrella Azul
Keep the good news coming! You can send in your news items concerning the Friday Flash community to Estrella at estrella.azul@fridayflash.org or by contacting her on Facebook or Twitter. Or feel free to share your news by posting on the#fridayflash Facebook Group Page.