July 24, 2012 in Community News, News Flash by Estrella Azul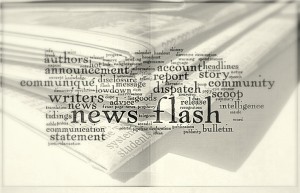 Eric J. Krause has a new short story,  a tale of ghostly horror entitled "Reese Copy Company", available to read over at thewifiles.com.
Tony Noland's flash, "Broad Horizons", was featured at Amwriting.org.
Dan Powell's piece, "The Library That Delivered", is this week's Summer Library Series post over on What She Might Think.
G.P. Ching has incorporated her writing business and Carpe Luna, LTD now publishes the "Soulkeepers" series.  She is expecting to release two more books this fall, including the first book in a new paranormal romance series for adults and the first in a new young adult trilogy.
Congratulations to all!
~ Estrella Azul
Keep the good news coming! You can send in your news items concerning the Friday Flash community to Estrella at estrella.azul@fridayflash.org or by contacting her on Facebook or Twitter. Or feel free to share your news by posting on the#fridayflash Facebook Group Page.