July 31, 2012 in Community News, News Flash by Estrella Azul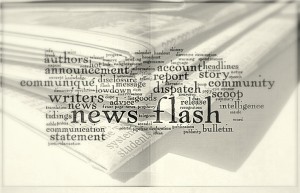 Over on Write Anything, Tony Noland responds to the question, "What is my greatest triumph as a writer?".
Dana Sitar's article, Here's The Best Way To Explain To People What You Do For A Living, was featured in Business Insider.
You are invited to Melissa L. Webb's official "Bell, Book, and Sandals" virtual book launch party on Tuesday, July 31, 2012. The party will last all day right here on Melissa's blog as well as at the BBS Facebook fan page, and on Twitter using hashtag #BBSbooklaunch.
Congrats to all!
~ Estrella Azul
Keep the good news coming! You can send in your news items concerning the Friday Flash community to Estrella at estrella.azul@fridayflash.org or by contacting her on Facebook or Twitter. Or feel free to share your news by posting on the#fridayflash Facebook Group Page.