August 7, 2012 in Community News, News Flash by Estrella Azul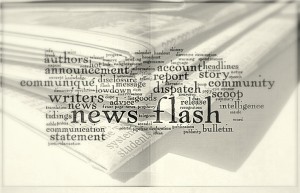 Dan Powell's latest short story, "A Pack of Rats", is featured in Volume 3 Issue 10 of the projectile for incendiary flash fiction, The Molotov Cocktail.

Edge Dyrksec Johnson's thirtieth birthday is coming up, and he wants to successfully sell something he has written, his novella, "Stormbringer". Here is how you can back him up on it!

Tom Gillespie's debut novel, "Painting by Numbers", will be out on paperback 23rd October. Also, a few months ago a film maker in India wanted to adapt one of his flash stories. Here it is, go watch.

Carrie Clevenger informed us that "Crooked Fang" is now available for order in print.
~~~
Lascaux Flash is hosting a flash fiction writing contest. Check out all the details here.
Congratulations to all!
~ Estrella Azul
Keep the good news coming! You can send in your news items concerning the Friday Flash community to Estrella at estrella.azul@fridayflash.org or by contacting her on Facebook or Twitter. Or feel free to share your news by posting on the#fridayflash Facebook Group Page.