September 4, 2012 in Community News, News Flash by Estrella Azul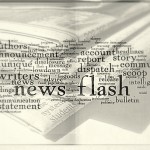 Brinda Banerje's short story, "The Siege", is featured in the fourth issue of the online literary magazine, CAKE: Short and Sweet. Brinda feels very excited and thankful that this group has helped her along with comments and encouragement.
Tony Noland, in his article over at Write Anything, talks about one really effective method for fixing "broken" characters – the tropes, walk-ons, cardboard, boring, half-drawn characters that populate many rough drafts.
Annie Evett also has an article up at Write Anything, where she talks about submitting your work. Go read it, she makes excellent points.
The Knights of the Round Table, on Goodreads, have proudly announced the one and ONLY winner so far of the Knights of the Round Table Reader's Choice Award. To win this award, a book must average a 4.5 from all reader reviews, and must have received at least three reviews. The book that met the strict criteria, established by their reader poll, is "Immortal Desires" by Laura Eno.
Carrie Clevenger and Nerine Dorman let us know about the Bloody Parchment: Hidden Things, Lost Things and Other Stories now being released and available for purchase. And make sure you drop by Nerine's place, there is also a Bloody Parchment anthology call for submission.
Also, Carrie Clevenger gave #FridayFlash a brief plug in this radio interview. Since it was done over the phone, it is not exactly the best quality, but still highly enjoyable.
Congratulations to all!
~~~
If anyone is interested, Calum Kerr (Director of National Flash Fiction Day) is running a 6-week online Flash Fiction course. Check out the link here for details!
~ Estrella Azul
It is great to be back, even though Estrella could certainly get used to being on vacation and reading all day long. Thank you for sending in your news items to Jon while she was away. Starting today, you can (again) keep the good news coming by sending in your news items concerning the Friday Flash community to Estrella at estrella.azul@fridayflash.org or by contacting her on Facebook or Twitter. Or feel free to share your news by posting on the#fridayflash Facebook Group Page.