September 9, 2012 in Community News, News Flash by Estrella Azul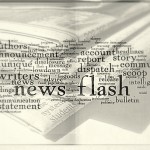 Laura Besley guest blogged on a fellow writer's blog. Check out this link for her article about writing Flash Fiction. And of course, feel free to comment!
Laura Eno was interviewed by our own, Cathy Olifee-Webster. Cathy also asked Tim VanSant some bizarre questions.
Peter Newman has been blogging for about a year now and to celebrate he is writing anything that people want, no matter how weird or lame. He is open to prompts all through September. The blog post with the details is here.
My (Estrella Azul) latest travel article, where I take a short drive to "Bridal Veil Waterfall, Mărgău, Transylvania" is now up on Milliver's Travels. Want to see a flying fox? Come on over.
Congrats to all!
~~~
Jodi Cleghorn let us know that the poll is now closed, and we have the results for how the BOFF2 cover will look like. Want to know what it is? It is *drumrolls* BLUE! Nice, safe blue. Click through to the Best of Friday Flash: Volume Two Cover Color Poll and take a look at it again.
~ Estrella Azul
Keep the good news coming! You can send in your news items concerning the Friday Flash community to Estrella at estrella.azul@fridayflash.org or by contacting her on Facebook or Twitter. Or feel free to share your news by posting on the#fridayflash Facebook Group Page.