September 18, 2012 in Community News, News Flash by Estrella Azul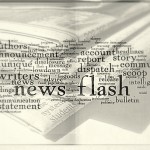 Jodi Cleghorn's novella "ELYORA", a contemporary horror set in country Australia, will appear in the Review of Australian Fiction's special December edition "Down the Rabbit Hole". The majority of the novella's first draft was penned during the June Rabbit Hole Event (30,000 words in 3 days) sponsored by the Queensland Writers' Centre.

Donna and Alex Carrick have pulished a new cross-genre collection of stories called "EFD1: Starship Goodwords", to be the first in a series of like collections.

Kemari Howell and Tomarra Armstrong are launching their new literary magazine Em Dash.

"The Ghost and the Graveyard" by Genevieve Jack (G.P. Ching's adult pseudonym), is officially available everywhere.  You can find it by visiting the links in the upper right hand margin on her website.  As for something fun, the book was featured last Friday on Kindlegraph!
PJ Kaiser's guest post, Amazon Turns the World of Web Serials on its Head, where she attempts to wrap up some of the buzz about Amazon's announcement last week of "Kindle Serials" is up over on Tuesday Serial.
Linda Simoni-Wastila has been promoted to Senior Editor of jmww.
Congratulations to all!