October 9, 2012 in Community News, News Flash by Estrella Azul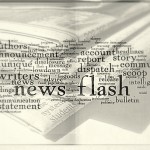 Out of nearly 5,000 entries, Dan Powell's six-word story made the shortlist for the their Six Word Story competition.
Our own, J. M. Strother has a guest post up, Stop Editing, on the new and improved #Amwriting website.
Write What You Know – But what does that really mean? this is the question Angie Capozello answers on #Amwriting this week.
Tom Gillespie has interviewed Calum Kerr, writer, editor, lecturer and director of National Flash-Fiction Day. Go read it on Tom's website.
Tom got interviewed himself regarding his writing, and you can read that over on Writer's Checklist.
Congratulations to all!
~~~
As a short teaser, stay tuned for this week's Thursday post where Jon Strother has a few announcements on FFDO staff changes; mainly on yours truly, Estrella Azul, advancing to the Editor of Friday Flash Dot Org position.