October 18, 2012 in NaNoWriMo, Thursday Writing, Tips and Suggestions by Catherine Russell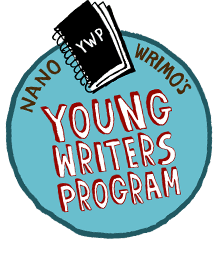 Welcome, fellow writers, to that most wonderful time of year.
November is Nanowrimo – or National Novel Writing Month, when aspiring authors the world over challenge themselves to write a 50,000 words rough draft novel in 30 days. Young Writers Program, another Nanowrimo program, helps young authors challenge themselves as well – to write a rough draft novel of the length of their choosing.
With both programs just around the proverbial corner, that means October can be used for preparation. Of course it is not required. Both programs are purely voluntary, and authors may write by the seat of their pants come November 1st – but it does not hurt to use this month wisely. Especially when younger writers are concerned.
Young Writers Program offers many incentives to kids writing their stories – from donated prizes like free proof copies of their work, to the simple but powerful lure of bragging rights. Write a novel in a month? How crazy is that! Young novelists have access to forums where they can post by grade level or subject; they can make 'writing buddies' to compete against in word wars. They can even download free workbooks, customized by grade level, to get them into the right frame of mind. And just like those famous Ginsu knives… but wait! There is more!
Educators – whether parents or teachers – have access to lesson plans, those same workbooks, rubrics, and assessment suggestions. If adults use the curriculum provided, it meets CORE standards for many states. A virtual classroom is available for educators to post things for their class – from forum posts about writing dares to homework assignments. Confused adults can post in the Teacher's Lounge for advice on anything they may be unsure of. Young Writers Program will even provide one 2012 Classroom Kit free-of-charge to educators teaching 10 or more students.
But, if you choose to accept the challenge, the day to day responsibility of keeping the kids interested is up to you. I imagine there will be times, like any other school, when class interest will wane. But excitement is infectious, and your enthusiasm should (hopefully) carry you all through to that glorious Finish Line. Just remember the fun, remind them of the prizes, and provide plenty of incentives and positive feedback. It should be a great experience for all.
This year is my fifth Nanowrimo, but my first teaching the lesson plans to a group of children. Wish me luck, and do not forget to try yours. After all, what have you got to lose?
~ Catherine Russell