October 23, 2012 in BOFF 2, Book Launch, Community News, eMergent Publishing by Angie Capozello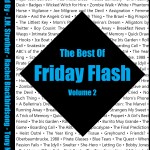 We have news that is so exciting we could not wait until tomorrow to share it – Jodi Cleghorn of eMergent Publishing has details on the Oct. 30th release of BOFF2!  Hope to see you all at the launch party!
-Angie
———————————-
From the desk of Jodi Cleghorn…
The Best of Friday Flash: Volume 2 is rolling off the presses in three different countries in anticipation of next week's release. I'm looking forward to taking the first shipment later on this week in Brisbane.
Release Day
Next Tuesday (30th of October) is release day. I've prepared a launch pack to assist in promoting the anthology. The promo material can be downloaded here.
An online party is organized at Facebook. Please join the guest list and encourage friends and family to join in also. We'll have giveaways throughout the day.
Pre-Orders and Post-Release Sales
For those who have pre-ordered copies of the anthology, thank you! We are aiming to have them to you before the launch. For those of you who haven't pre-ordered, we encourage you to put your order through now. The Best of Friday Flash page has more information on how you can order.
We are waiting for Amazon and other online retailers to pick up the anthology, however we are encouraging people, where possible, to purchase through the eP bookstore. This allows all book profits to be reinvested back into the community (rather than being shared with Amazon!)
The e-book will be available from the eP bookstore as of 9am Tuesday (Australian Eastern Standard Time) in three different file formats.
If anyone has any questions or requires any additional information please feel free to get in contact with me
________________
JODI CLEGHORN
Creative Director
eMergent Publishing