October 23, 2012 in Community News, News Flash by Angie Capozello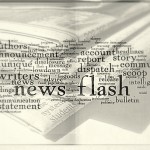 Mark Nash's science-fiction dark comedy has just been published. Check out "Time After Time"
Leonard White has had six poems accepted for inclusion in the "Cthulhu Haiku" poetry collection by Popcorn Press.
Carrieanne Brownian is taking part in the "Alpha Male Blog hop" – and readers can win prizes!
Erik Gustafson has a short story in the "America's Next Author" competition – stop by and cheer him on!
Sarah Snell-Pym is hosting a digital launch party for her illustrated collection of children's poetry on Facebook. You may download a free PDF copy of "The Little Book of Spoogy Poetry" from now until midnight of October 31st.
Melissa L. Webb has a new Maxie Duncan novelette coming out just in time for Halloween – "It's Not the Great Pumpkin, Maxie Duncan."
Estrella Azul's guest post "This precious thing of relaxing and doing what we love" was featured on the Fear of Writing website. It is a rewrite of her last assignment for Milli Thornton's Ace Your 10K Day online course. She has some good questions for you, go answer.
~~~
Call for Submissions
Jennifer Dalby (@injenuity) passed on word of a call for submissions from The Iowa Review "for a forthcoming Norton anthology, Flash Fiction International, edited by Robert Shapard, James Thomas, and Christopher Merrill. We are looking for contemporary very short stories in English or English translation, limit about 1,000 words. We usually reprint works already published, but will also consider original manuscripts."
Send submissions or leads to Christopher Merrill, 100 Shambaugh House, University of Iowa, Iowa City, IA 52242, or christopher-merrill [AT] uiowa [DOT] edu
The Iowa Review has very high standards, so be sure to only submit your best work.
Thanks, Jennifer.
~~~
 If you are doing NaNoWriMo this year and would like to share your experience with us please contact Jon Strother or Estrella Azul. We would love to hear from you.
Congratulations to all!
-Angie C.
~~~
Keep the good news coming! You can send in your news items concerning the Friday Flash community to yours truly, Angie Capozello, at AngieC@fridayflash.org, to our fearless leader Jon Strother at jmstro@gmail.com or by contacting me on Facebook or Twitter. Or feel free to share your news by posting on the #fridayflash Facebook Group Page.