October 30, 2012 in BOFF 2, Book Launch, Celebration, Community News by JM Strother
Today marks the launch of the Best of Friday Flash – Volume Two, or BOFF 2 as it is affectionately known around here. BOFF 2 is a collection of some of the best flash fiction to be found on the web and we are happy to see its release to the wild. To join in on the fun attend the official launch party on Facebook.
On this auspicious occasion we here at Friday Flash Dot Org want to take a moment to thank all the people who made this event possible.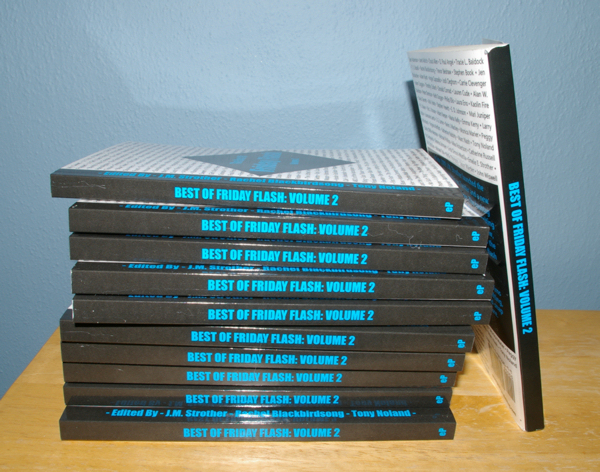 First and foremost we thank the writers who answered our call for submissions. Unfortunately not everyone who submitted was accepted, and some very worthy candidates were, by necessity, not picked up. I know and admire folks we had to turn down. I count some of them as personal friends. For me, as one of the Editors, the single hardest thing to do was sending out those letters of regret. But deserving stories will find a home, of that I am sure. The only thing that made it bearable was the fact that the stories that did make it into this terrific collection were selected by a blind panel of judges. In the end we wound up with a fine collection of stories which does a wonderful job of showcasing the diverse talent which makes the #FridayFlash community so vibrant and alive.
Which brings us to the next group we need to thank, our blind panel of judges.
This year we used Submittable (formerly Submishmash) which allowed us to operate the entire submission and selection process blind, i.e. the judges did not see the author's names when doing their evaluations. While not perfect (unlike me, some judges probably have very good memories) this ensured the most fair process we could manage for story selection. We want to thank all the judges for their diligent and fair-minded efforts.
The editing burden this year was a shared effort. On a personal note I want to thank my co-editors, Tony Noland and Rachel Blackbirdsong, for their assistance in putting it all together. Since we had three editors this year, we have three stories selected as Editor's Choice picks. Congratulations to TS Bazelli for "Quick Draw," Mike Robertson for "Ice Boat," and Kevin J. Mackey for "Intimate Strangers." Your stories are exemplars of the breadth and depth this community captures every week in 1000 words or less. Amazing work, every one.
As always, we want to thank our readers. Your encouragement, comments, and critiques week in and week out are invaluable. We also thank you for picking our Reader's Choice Award, "Running Away," by Cathy Olliffe-Webster. Congratulations, Cathy.
Finally, we want to thank our publisher, eMergent Publishing, and Jodi Cleghorn in particular. She helped shepherd the book through the entire process, gave timely and sage advice, a shoulder to lean on when most needed, and even designed the cover. It was pure pleasure working with Jodi, and eMergent Publishing. Jodi, we are proud to bear your imprint.
You can see the full Table of Contents of BOFF 2 at the eMergent website, where you can also purchase a copy (or two) for your very own.
And don't forget the party on Facebook. Drop by and say hello, have an hors d'oeuvre, or glass of punch (careful, I've heard it's spiked), and then go out and help spread the word. And thank you all again for participating in #FridayFlash.
~jon