October 31, 2012 in Community News, News Flash by JM Strother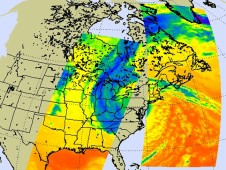 This has been one heck of a week, with a major disaster striking the east coast of the United States. It seems inappropriate to me to run a standard issue of the News Flash when one overwhelming news event should have all our attention and affects so many lives in a very real way. There are still some members of the #FridayFlash Community we have not heard from which is quite worrying. If you have the means please consider giving what you can to the American Red Cross for Hurricane Sandy relief efforts. You can contribute on line.
If you are in the affected area please, please do not take any unnecessary risks. If you had news for this week, and it was time sensitive, please contact me directily (jmstro@gmail.com) and we will help get the word out via Facebook and Twitter. We will have our regular News Flash next week. In the mean time keep those affected by this storm in your hearts, thoughts, and prayers.
~jon
Image via NASA's AIRS satellite.