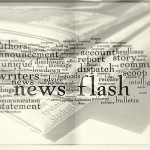 When it rains, it pours. This week we have more news than you can shake a stick at. Enough cliches yet? Well, let's get cracking.
Emma Newman will be a Guest of Honor at this year's BristolCon, one of the biggest SF&F conventions in the UK. Emma is a long time member of the #FridayFlash community and author of the excellent Split Worlds Series and co-host of the "Tea and Jeopardy" podcast, along with her husband, Peter. Other Guests of Honor are fellow author Jon Courtenay Grimwood, and artist Julian Quaye. The con will be held in the DoubleTree Hotel in Bristol on October 25th. Memberships are £25. Peter Newman will also be a guest and panelist. He has posted his schedule here. Oh that I were in Bristol.
On September 29th Alan Baxter appeared on Channel 31's "Behind the Words" television show. Channel 31 is a local community television station in Melbourne. The show features interviews and sound bites with writers and publishers attending the Continuum Convention earlier this year. Through the magic of the Internet you can see the show in it's entirety here. The entire episode, which runs 24 minutes, is worth watching, but if you want to cut to the chase Alan's bit starts at the seven minute mark. You know you've always wanted to see Alan in person, well this is the next best thing.
An article by Kyle Chayka on the Penguin-RandomHouse blog, Hazlitt, discussed the #AmWriting hashtag and resultant community created by Johanna Harness. While the article was less than flattering, if not downright mean spirited in nature, as Johanna says, there is no such thing as bad publicity. You can read the entire article here.
Editorial note: People pour their heats and souls into the books, stories, and articles the write. To belittle anyone for that effort is small-minded at best.
G. P. Ching was a panelist on the "Publishing In the Digital Age" panel at Archon38 in (actually near) St. Louis this past weekend. I was lucky enough to attend that session and have a summary chock full of good advice for writers up on my blog, Mad Utopia. It was a pure pleasure to finally get to meet Genevieve in person. By the way, if any of you are ever attending Archon please let me know. I'd love to meet you too.
April Brown announced the release of six, count 'em – six, books last week. April has been very busy indeed. The titles include four cookbooks and two novels. They are:
Coffee, Tea, and Gluten Free: Desserts and Grains (in print only)
Coffee, Tea, and Gluten Free: Meats (print only)
Coffee, Tea, and Gluten Free: Vegetables (print only)
Coffee, Tea, and Gluten Free: The Cookbook (print and digital)
Trails 1: Trails Through the Fault Lines, (print and digital) and
Crosswinds: Past, Present and Future Combine (print and digital)
All six of the books are available from Amazon and Smashwords.
This is the last week you can enter the Halloween Humor and Horror Contest. All entries must be in by midnight, Saturday October 11th. The winner will be announced on Halloween. Good luck, everyone. May the best man, or woman, or android win.

Catherine Russell continues with her series on the darker side of fairy tales with a feature on Snow White. Be sure to drop by tomorrow (Friday) to give it a read.
Continue to amaze me, folks. You are wonderful.
~jon