April 24, 2014 in #AmWriting, Blog Tour / Blog Hop, Book Launch, Community Highlight, Interview, Thursday Writing by JM Strother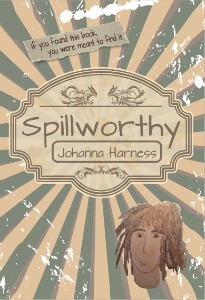 Today we are very pleased to host an interview with Johanna Harness. You probably know Johanna as the creator of the #amwriting hashtag on Twitter and the founder of the #amwriting online community. Unfortunately the #amwriting site is no longer active, though a good bit of it remains available in archives. In its heyday there was a huge crossover of membership between our two sites, and many in #FridayFalsh community continue to use the #amwriting tag to this day. I've always felt a kindred spirit, not only with Johanna, but with all the fine writers I met through her site.
~~~
Hello, Johanna. It is an honor to have you here with us today on FFDO. I hope you fared well over this long cold winter and that springtime has actually arrived in your area.
Thanks so much for inviting me! And yes, spring is finally here in Idaho, which generally means the weather can't make up its mind. Local wisdom is never to plant until the snow is gone from Shafer Butte–usually around Mothers' Day.
I asked to have you here today for two reasons: one, to discuss the upcoming release of you new novel, Spillworthy; and two, to discuss this interesting concept you've come up with to introduce it to the world which you have dubbed Catch and Release. So let's get right to it. Can you give us a short synopsis of Spillworthy, and perhaps tell us the origin of both the conception of the book and the title?
The story revolves around Ulysses, a bright kid who loves to write and who happens to be homeless. When a stranger intervenes and places Ulysses' mom in detox, the 10-year-old finds himself bussed off to rural Idaho to stay with grandparents he's never met. As readers, we see the action unfolding through Ulysses' journals and sometimes through public notes he leaves for others to find. These public notes are ideas he deems too good to be kept to himself, the ideas that are worth spilling to the world. He calls these notes spillworthies.
The idea itself comes from teaching writing to kids. Too often we teach writing through assignments with very strict rules. Students learn to suss out what the teacher wants and write exactly that response. Very rarely do instructors ask students to write about the things they truly find important in life. In teaching writing, the biggest challenge is helping students connect to their own sense of purpose and power. When they make connections between ideas–when their responses are so important that they have to tell someone–when they really find something spillworthy that has to be written–they start to care about writing. You can see it in their eyes. They get hooked on it.
Can you give us a little character sketch of Ulysses – what makes him tick? What made him a compelling character for you to write about?
Ulysses is innately optimistic in any situation. I've noticed in my own life that challenging circumstances will lead some people to really dark places while others seem to radiate an inner light. I've always been intrigued with what sets those optimistic souls apart from everyone else. It doesn't seem to be religious faith or economic resources or education. There are just some people who always see goodness in the world, no matter what happens to them. At first glance, these people seem slightly innocent, even to the point of being naive or gullible, but you get to know them and it's evident that's not the case. Generally they have a depth of understanding that amazes me. Ulysses is one of those people in childhood. Some of his innocence stems from his age, but we see his mind working through the complexities of his experience and we know there's something more at work.
I must tell you that my ARC copy came in the mail today and the first chapter pulled me right in. Ulysses has a terrific voice and is quite compelling. Was it hard for you to get into his head, or the heads of the other characters, for that matter?
The kids in the book are all very real to me. Part of my difficulty in changing the book for an editor was this horrible sense that I was being unfaithful to them. I tried being rational, reminding myself that they were not real people. I made them up, so I could change them. Still, there's always an aim for truth when writing fiction and the characters do put up a fight when we try to turn them into something they're not. So I guess the answer is that I didn't have trouble getting into their heads, but sometimes I did have trouble getting them out of mine.
You describe Spillworthy as a middle-grade novel, as opposed to children's or young adult. While I'm sure both younger and older readers will enjoy it, how do you see the difference when it comes to categorizing a novel?
The distinction for me is really about appropriateness of topics presented. I suggest ages 9-12 as a starting age for reading, depending on how early parents are ready to talk to their kids about social issues. The book introduces topics of drug use, addiction, homelessness, social responsibility, abduction, corruption of authority figures, religious differences, abandonment. Sounds pretty heavy, I know. But all of those things really make up the setting. Those things are all part of the world those kids are living in. And, if we're honest, those things are all part of the world our kids are living in, too.
Spillworthy is not didactic and it won't provide answers, but hopefully it will provide a safe way to begin conversations with kids about serious issues that tend to scare parents to death. It gives parents a chance to say, "what would you do?" and "Do you think they handled that the right way?" And, at the same time, it allows kids the opportunity to say, "Yes. I feel like that too. Adults hardly ever listen to me."
It's a good story, but hopefully it's also the beginning of a discussion.
Can you describe your own journey to publication and what guided you down that route?
I started out planning on traditional publishing. I submitted manuscripts, signed with an agent, went out on sub, and wrote book after book during the years I waited for replies. The replies really frustrated me. Invariably, I'd get comments about my unique voice and intriguing characters and then the advice would be to change it to be like everyone else. It was all about marketing and sales. I apparently had to pay my dues writing stories like everyone else's, break into the market, and then bring out the unique voice after I'd proven I could fit in. I told myself it was like breaking grammar rules after you prove you can follow them. I'd change these stories into cookie-cutter designs and then I'd be free to do what I wanted later.
I hadn't calculated the impact that experience would have on me as a writer. Rewriting my own spillworthy stories into teacher assignments–that's what it really came down to for me. And it killed my will to write.
I went through a dark period. I used to worry about never getting published and suddenly I was worrying over the opposite–that I'd sell one of the stories I'd rewritten (and destroyed).
I didn't know what I was going to do, only that I couldn't do what I was doing any more. I admitted defeat and fired my agent.
I didn't even admit to myself that I was planning on self-publishing, but I started doing things that betrayed my intentions–things like learning to use inDesign software and doodling ideas for book covers. Even after it was clear the path I was walking, I kept it very close, giving myself the option of changing my mind at any point.
That decision to go it alone, while probably scary, must have given you a tremendous sense of liberation, to be free of the constraints others were trying to place on you. So you had complete freedom on everything from layout to design, right?
Liberation is one of those double-edged swords. On the one hand, I can do anything I want! On the other hand, I have to take full responsibility for all those decisions. It is scary, but it's also a relief.
Speaking of which, is the cover your own design? I really like it.
Thank you! Yes. The cover design is mine. I created several before this one, but they all ended up too even and polished. I finally found what I wanted when I gave myself permission to play, without worrying about the results.
Based on your own experience, do you have any advice for other aspiring authors?
In the process of writing your books, take time to care for the writer. We do a lot of foolish things to prove we're good enough, but killing the writer behind the writing defeats the purpose. Write your spillworthy ideas and know your limits–both in your writing and in your life. Never feel like you're less of a writer because you limit the things you will do to get published. Those limits give you strength.
Thanks, that's very good advice.
Let's talk a little about your catch and release promotion. First of all, with a moniker like that I have to ask, do you fish?
I grew up fishing and thought I was quite good at it. As an adult, I've discovered that my dad was really quite good at fishing and I just went along for the ride.
So how does catch and release work?
Early readers from all over are releasing copies of Spillworthy into the world during the first ten days of May. The books are left for others, with the request that they be set free again after being read. Each book is tagged and can be reported as found on the spillworthy.com website.
After books are released during those first days (and the participants are no longer there), the locations of the books will be revealed through social media. If someone nearby goes to get the book, that's awesome. If not, we leave it up to fate to decide who finds it.
That sounds like fun, and a terrific way to spread the word.
Are you also physically hitting the road for the promotion? If so, what stops are you planning to make, and when?
I am going on a book release road trip in Idaho, Oregon, and maybe Washington. I'm playing more than working, releasing books myself during those first ten days, plus stopping in at libraries and bookstores. I have no schedule to keep, which is entirely by design. I'll be posting photos during the week and telling people where I'm releasing my books into the wild.
Back home in Idaho, I will be doing some workshops for kids as well. Although they tie in with the idea of creating spillworthy poems and art, they're entirely an excuse for me to get kids hooked on writing.
A worthy goal, indeed.
What was the hardest obstacle for you to overcome in the whole concept to publication process? What was the greatest joy?
The hardest thing is knowing that my mom died too soon to hold this book in her hands. She always believed this day would come and I wish I'd moved forward earlier, to share this experience with her. My greatest joy is opening a box of books and having my kids clamoring for copies of their own.
I am so sorry about the loss of your mother, I know you were close. I see you have dedicated the book to her. I'm sure she is very proud, not only of this book, but of all that you do.
Thank you. We had time to tie up loose ends before she died and she made sure I knew she was proud of me. She was good like that. And honestly, if I had put this book in her hands, I'd have been sad that she couldn't hold the next one. There's never a good time to lose the people we love.
Finally, I want to ask, do you have any other writing projects going that we can look forward to?
I wrote quite a few books while waiting for agents and editors to write back to me. My older daughter has already selected the next one she wants me to revisit. DisasterMinds is a young adult novel about a socially inept teen who believes he's so smart he must have been genetically engineered in a secret lab. He convinces his childhood friend, a girl who happens to have been conceived in the same IVF program, to take a road trip with him, to either prove or disprove his theory.
Nice. I'm looking forward to reading it.
Thank you so much for taking the time to visit with us today, Johanna. I really enjoyed talking to you and learned a lot through your keen insights. Best of luck with the release.
~~~
Spillworthy will be available May 1, 2014
Print copies: Amazon, B&N, & other fine book sellers.
Ebook available only on Amazon Kindle.
Amazon Paperback ISBN: 978-0-9913810-2-9
Ebook ISBN: 978-0-9913810-3-6
Hardback ISBN: 978-0-9913810-0-5
Trade Paperback ISBN: 978-0-9913810-1-2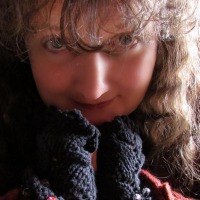 Johanna Harness has ten years experience teaching college English, and fifteen years experience homeschooling, writing, teaching workshops, and puttering around her big, red barn. Johanna loves exploring the natural world and enjoys trees in particular. She was born and raised in Idaho, where she and her husband went to kindergarten together. She now shares her love of books, science, and history with her kids, sheep, cats, and guinea pigs (but mostly with her kids).