March 4, 2012 in BOFF 1, eBooks, Promotions by JM Strother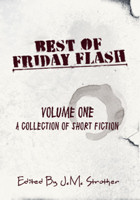 It is "Read an Ebook Week" and to celebrate we have "The Best of Friday Flash – Volume One" for sale over at Smashwords at 50% off. If you've been considering trying out the BOFF no better time than the present. The collection spotlights the best from the first year of #Friday Flash and includes stories from award winning authors Dan Powell and Michael Solender, just to name two of our wonderful authors.
The collection represents all that is good about #FridayFlash: a wide mix of genres, both new and established writers, and world wide representation. You will recognize the names of many #FridayFlash regulars and may discover some new favorites along the way.
So what are you waiting for. Get thou to the Smashwords. For the paltry sum of $1.50 (US) you can have your very own copy of the original BOFF. I think you will find it well worth the cost of two Cokes, and the vending machine won't steal your change. The sale starts today and runs through March 10th.
~jon