March 4, 2014 in Community News, News Flash by Angie Capozello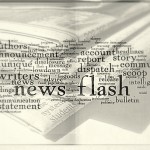 Jodi Cleghorn has a new article up on the Writer's Block, "Adventures in Collaborative Writing."
Charlotte Comely has a story in the anthology, "You, Me and a Bit of We." The e-book will be available for free March 6th and 7th, and it is available on Amazon in the UK and US.
C. M. Brown is taking part in the Pot O' Gold giveaway, hosted by Darkly Delicious YA and Book Nerd Tours . The event runs through March 17th, and the grand prize will be a Kindle Fire HD loaded with YA and NA novels.
Lisa Vooght had a microfic up on Paragraph Planet, a site that features a new 75 word story every day.
Teaser Tuesday — Drop by FFDO on Thursday afternoon, to read a new From Scene to Screen article on why H. P. Lovecraft's work might not translate well to the big screen.

—
Congratulations to everyone!
- Angie C.
Keep the good news coming! You can send in your news items concerning the Friday Flash community through the News Hound form or by contacting me on Facebook, Google Plus or Twitter. Or feel free to share your news by posting on the #fridayflash Facebook Group Page.