March 11, 2014 in Community News, News Flash by Angie Capozello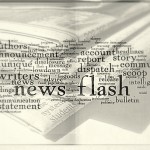 Jodi Cleghorn's group of vignettes, "Nothing New to Begin" are available in Tincture Journal, Issue #5.
Alan Baxter's story, "Shadows of the Lonely Dead" has been included in the dark fantasy and horror anthology, "Suspended in Dusk," to be published by Books of the Dead Press.
FridayFlash Wants You!  We are looking for writers to submit articles for the website, and any writing-related topic is welcome. For more info on guidelines and to contact our editor, Estrella Azul, click here.
Teaser Tuesday — Drop by FFDO on Thursday afternoon, to read about the human touch – using body language in writing.

—
Congratulations to everyone!
- Angie C.
Keep the good news coming! You can send in your news items concerning the Friday Flash community through the News Hound form or by contacting me on Facebook, Google Plus or Twitter. Or feel free to share your news by posting on the #fridayflash Facebook Group Page.