April 17, 2014 in Blog Tour / Blog Hop, Book Launch, Community News, Promotions by JM Strother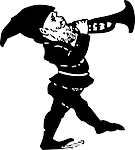 We here at FFDO are continually amazed at the accomplishments of our community members.
We also are dedicated to help you celebrate those publication achievements, be they flash fiction sales, stories included in an anthology, or book launches (self or traditionally published). Thus the News Hound, which many of you take advantage of.
Another way we try to help you succeed is by providing you space right here on FFDO for guest posts.
If in conjunction with your latest achievement you plan to hold some sort of blog hop remember to include us on your stops. We'll help you blow your horn.
Simply contact Estrella or me with your idea, and we will make room in our editorial schedule for your post. The nature of the posts are up to you – you can provide us a "press release" type of write up, a personal narrative about what you are sharing, or we can do an interview.
Interviews require a bit more lead time in that we have to send you the questions, receive the answers, and then do any follow up the original exchange may have left wanting.
For an example of an interview be sure to drop by next week when we will have Johanna Harness, founder of the #amwriting community, to discuss her new middle grade novel, "Spillworthy". It is a terrific interview, and Johanna provides some keen insights based on her own journey to publication.
We hope you'll drop by and share your thoughts and impressions.
We also accept guest posts that are not specifically news related.
If you would like to share your thoughts on writing, the writing life, the road to publication, or other writing/publishing related topics just contact us. Chances are excellent we will welcome your input.
Together, we make a great community. Let's keep it going.
Contact Jon Strother at jmstro AT gmail.com.
Contact Estrella Ezul at estrella.azul AT fridayflash.org
~jon
*Public Domain image from Creative Commons.