April 22, 2014 in Community News, News Flash by Angie Capozello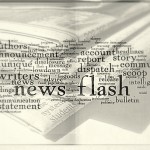 Estrella Azul shared the announcement of the inaugural Lascaux Prize for Poetry. Poems may be previously published or unpublished, and simultaneous submissions are accepted. The winner receives one thousand dollars and publication in The Lascaux Review. The winner and all finalists will be published in The 2015 Lascaux Prize Anthology. Two copies of the anthology will be supplied to every poet appearing in it. Entry fee is $10. Poets may enter more than once, and as many as five poems may be submitted per entry. There are no length restrictions. All styles are welcome. Deadline for entries is 21 June.
Jodi Cleghorn had her first poem, "Ambrosia" published in Issue 10 of Vine Leaves Literary Journal. Adam Byatt also had his poem, "Elihu's Meditation on Questions Unanswered" published in the same issue. Vine Leaves is a free publication, that can be read online or downloaded as a .pdf from Scribd.
Charlotte Comely shared the announcement of the Prolitzer Prize for Prose Writing 2014.  Prole Publishing's mantra is engaging, challenging, accessible and high quality. Read more here on Charlotte's blog.
FridayFlash Wants You!  We are looking for writers to submit articles for the website, and any writing-related topic is welcome. Feel free to browse through our Thursday articles for inspiration – Reader's Review, Book Tour Blog Hop and Interviews are just a few of our goodies. For more info on guidelines and to contact our editor, Estrella Azul, click here.
Teaser Tuesday — Drop by FFDO on to read an interview with JoHanna Harness about a very new kind of book tour and publicizing way she thought of.

—
Congratulations to everyone!
- Angie
Keep the good news coming! You can send in your news items concerning the Friday Flash community through the News Hound form or by contacting me on Facebook, Google Plus or Twitter. Or feel free to share your news by posting on the #fridayflash Facebook Group Page.