August 28, 2014 in Contests, Halloween, Submission Guidelines, Writing Fun by JM Strother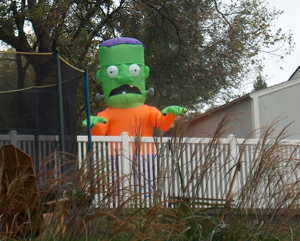 As summer begins to wind down our thoughts turn to autumn, at least here in the Northern Hemisphere, and the arrival of autumn can only mean one thing – Halloween draws near.
Now if you think I'm jumping the gun just visit any nearby drugstore (I believe called Chemists in some parts of the world) and take a look at the Candy and Seasonal aisles.
OK, I've just lost half of you as you run out to the nearest pharmacy, but for those of you remaining, I want to let you know about our upcoming Halloween Writing Contest – Halloween Humor and Horror.
Halloween Humor and Horror will be a bit different from our previous contests in that it will be judged anonymously, the winner will receive $50US, to be paid via PayPal, Amazon gift card, money order or cashier's check; whichever the winner prefers. We picked $50 as the prize as it reflects the pro rate of 5 cents a word for a 1000 word story. The winning story does not have to be 1000 words long, but will be compensated as if it is. In addition, the winning story will be published right here on FFDO on Halloween, which conveniently falls on a Friday.
Here's how the contest works:
The contest begins on September 5th and will run through October 10th. That should give the judge(s) a few weeks to read the stories before choosing a winner.
Write a new original story of 1000 words or less with a Halloween appropriate theme. Sorry, no retreads. The story can be horror, paranormal, slice of life, or even humor, as long as it deals with typical Halloween tropes such as monsters (including the human variety), the supernatural, trick-or-treating, or even Halloween parties. Just remember, you are trying to make the judge think, "Now that's a great Halloween story."
Polish the story as best you can – spelling and grammar will matter.
Post your story to your blog as a regular #FridayFlash.
Add your story to the Collector.
Share it via your favorite social media with both the #FridayFlash and #HHH tags.
Submit your story for the contest no later than October 11th, via Submittable, sans any identifying personal information. Stories with author's names or blog titles will not be considered. Upload the stories as either plain text(.txt), open text (.odt), or MS Word (.doc) format. Do not upload MS Word (.docx) files as they can be very problematic. Use Save As and change to the older format. Microsoft .docx files will not be considered.
Do not use fancy fonts or colors. The text must be back. Moderate use of bold and italics is acceptable. Please don't hurt our judge's eyes.
Members of the FridayFlash.org staff, judges, and their immediate families are not eligible to enter.
As always here at FFDO, there is no entry fee.
FFDO will be granted nonexclusive on-line rights and nonexclusive anthology rights, should we ever want to include the winning story in an anthology. That means you may place your winning story elsewhere, as long as it, too, has nonexclusive terms.
Please note, the Submittable site still needs to be set up, so you can't enter your submission yet, but you can still post those stories. We will let you know when the submissions site is ready to go.
While you may only enter one story into the contest, you can write as many #HHH stories as you like in the run up to the deadline, post them on your blog, and enter them in the Collector. Just be sure to submit your best via Submittable on or before the deadline.
If you are interested in being a judge please let me know.
Have fun with this, folks. Happy Halloween. Now, pass the candy please.
~jon