October 4, 2012 in eBooks, Reading by JM Strother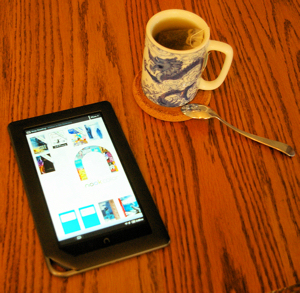 I got curious the other day and decided to go online and gather my bookshelf info from the two vendors I buy e-books from, Amazon, and Barnes and Nobel. I am fortunate enough to have two ebook devices, a Nook Color, and a Kindle 3 (now known as the Kindle Keyboard). The Nook Color was my first choice, since I knew I would prefer the tablet-like operation, but then I also won the K3 in an online contest. I was stunned, since I never win anything, but pleased. One never knows when a Kindle might come in handy.
These two devices came to me in fairly short order. In fact, while the Nook was purchased before the K3, the K3 arrived in my hands before the Nook. You see, beg as I might, my wife refused to let me open my Christmas present early. Yes, she is that mean. In the interim I held off buying much for the Kindle because I just knew I'd like the Nook better.
Turns out I know myself pretty well. In reviewing my two virtual bookshelves I found I have seven titles on my Kindle and an even 100 on my Nook. I have not read all the Nook books, and may never read some of them — a good number came from an introductory download spree from Kaplan, mostly nonfiction, on subjects somewhat esoteric (but you never know when you just might want to read about autopsy procedures, do you?).
I also discovered Free Fridays, tipped off by my good friend, Susan, and have since used this weekly giveaway to pick up a fair bit of fiction I probably would not have bought. I have read most of them, however, and was generally pleased. As a marketing strategy it works, as there are a few authors I have discovered this way who I will gladly buy from in the future.
Both bookshelves have several titles from authors I know personally, either from meeting at events, or from the #FridayFlash community. These include all the books by M. R. Sellars, who once came to one of our bookclub meetings, and whom I often run across at Archon, the annual St. Louis area's Science Fiction convention. Murv's a charming fellow, fun to listen to, and writes books that are fun to read.
At the risk of offending via omission the Nook contains titles from these (both past and current) #FridayFlash authors: Jeff Posey, Kevin Mackey, Shannon Esposito, G. P. Ching, and Clive Martyn, while on the Kindle I have titles from Helen Howell, Jeff Posey, and eMergent Publishing. The tiles from eMergent Publishing (my own publisher) are anthologies which contain stories from many in the #FridayFlash community.
There are a lot of #FridayFlash authors who have published for these two platforms, so why just these few? First off, there a lot of them and I simply can't afford to buy every title as it's released. Also, I have several others in traditional paper on my wooden bookshelves who do not show up here. Really, it mostly boils down to serendipity. If I've enjoyed their flash fiction, if I happen to come across their names when I'm in the mood to buy a book, if I remember to actually buy the book (quickly dying brain cells here), then I tool on over to the estore and make the purchase.
The point is not how many #FridayFlash authors I buy from. The point is that the #FridayFlash community is a vibrant and quite productive community, from all over the world, who produce amazing work in every genre you can imagine. They are out there pounding away, constantly striving to improve their craft. Many of them are very good, and deserve to be read.
So if you read #FridayFlash, and an author's work really grabs you, and you happen to be in the mood to buy a book, why not give them a chance? Go ahead. Tool on over to the ebook, or traditional, bookstore, and search for their name. If they have a title or two available go ahead and buy their book. You may just discover you have a new favorite sitting on your shelf.
Are you a published author, either self or traditional? You can let us all know by adding your publication credits into your FFDO member biography. Or you can leave a modest plug in the comments.
If you are looking for some of your favorite #FridayFlash authors you can look through past issues of The News Flash. Estrella does a wonderful job of announcing new releases from the community when she finds them.
Have any titles from the community you'd like to recommend? Tell us what they are in the comments below.
~jon