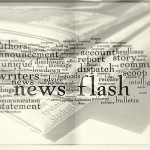 Johanna Harness will make an appearance at the new Nampa Library in Nampa, Idaho. The library's grand opening is March 14th, and one of their first events is a meet the author reception the following weekend, on March 21st. Johanna is one of the invited authors and will have copies of her award winning middle-grade novel, Spillworthy, available for sale and signing. Other authors in attendance will be Suzanne de Board, Margo Kelly, and Michaelbrent Collings. The event runs from 11am until 2pm. Drop by if you are in the area.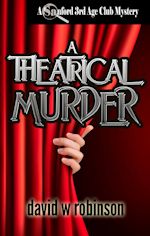 Crooked Cat Publishing has reveled the cover for David W. Robinson's latest novel, A Theatrical Murder. This will the thirteenth title in his Stanford Third Age Club (STAC) cozy mystery series. The release date is to be announced, but we are assured it will be soon. You can see a much larger and therefore more satisfying image of the cover here.
Mark Kerstetter had an article he wrote about Henry Darger linked to by the Huffington Post. The HP article from January 29th is "Inside The Dark And Twisted Alternate Universe Of Outsider Artist Henry Darger," by Priscilla Frank. Look for the quote "'Babies,' he once wrote, 'were more to me than anything, more than the world.'" in the HP piece for the link to Mark's article, "The Two Worlds of Henry Darger." Kudos, Mark!.
Alan Baxter has had not one, but two pieces nominated for the prestigious Ditmar Awards. The Ditmar Awards, Australia's premier awards for speculative fiction, are similar to the Hugos in that nominations and balloting are fan based. Alan's novel, "Bound: Alex Caine #1" is nominated in the Best Novel category. His story, "The Darkness in Clara," originally published in SQ Mag #14, is nominated in the Best Novelette/Novella category. The awards will be announced in April at this years NatCon, held this year in Perth. You can see the full preliminary ballot here. Good luck Alen!
~jon