July 22, 2014 in Community News, News Flash by Angie Capozello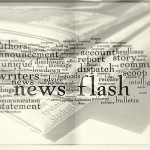 Emma Newman has a story in a new anthology coming out from Abaddon Books. "Two Hundred and Twenty-One Baker Street" is set for release in the US on October 7th, and in the UK on October 9th. It can be pre-ordered now from Amazon. Her novel Between Two Thorns has also been shortlisted in two categories in the British Fantasy Awards: Best Fantasy Novel and Best Newcomer as well as making the Locus top 25 Best Fantasy novels of 2013.
Maria Kelly announced that there is a contest for the Shinigami Stories issue of The Were Traveler. The deadline is December 20th, 2014. Start reaping! And… you are not too late to make the deadline for the Elves & Spacerockets: General Sci-Fi & Fantasy Issue, which has a deadline of September 15, 2014. Whatever would Legolas think?
Justin N. Davies has two stories, including "Sackcloth and Ashes" published in the "An Earthless Melting Pot" anthology, published by Words with Jam.
Angie Capozello will be stepping down as the NewsFlash Editor soon in order to spend more time writing. We want to thank Angie for all her excellent work, and hope to see her around here in the future with the occasional article and artwork. She has been a tremendous help. If you are interested in the position please drop me, Jon Strother, a line at jmstro@gmail.com.
Teaser Tuesday — Drop by FFDO on Thursday to read about the secret to writing success. 

—
Congratulations to everyone!  I'm sorry to be leaving, it's been a lot of fun seeing what amazing things you have all been up to every week. It came down to me simply not being able to juggle this, my hectic day job and writing.  I'll still be around though, and I'll still look forward to hearing about all your writing successes. Good luck to you all, and keep writing those awesome flashfics!

- Angie