October 11, 2012 in Community News, Notices by JM Strother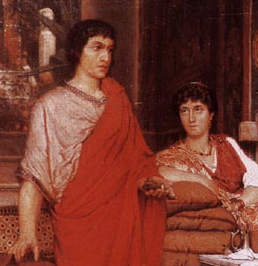 The title line here comes from the last line of Roman poet Gaius Valerius Catullus' famous tribute on the occasion of his brother's passing. In his eulogy the last line reads, "atque in perpetuum frater ave atque vale," or, "And forever, brother, hail and farewell."* While the original poem was a lamentation, the last bit of it, "Hail and Farewell," has come to be used in celebrations for changes of staff common to many organizations — both to thank exiting personnel for their service, and to welcome those who replace them.
So, while it is impossible to have a formal change of staff ceremony here at FFDO, what with the global distribution of our membership, I do want to take time to formally announce some major staff changes.
E. D. Johnson has decided to step down as Editor here at Friday Flash Dot Org. He has been at it for more than a year and feels it is time for a change. I want to take a moment to personally thank him for stepping in to take up the position at a time when I sorely needed the help. In relieving me of the front page duties of the website, he provided me some breathing space to get through a difficult time. He also helped set a new course for FFDO, implementing what he dubbed the a-team (short for Articles Team). You know the a-team as our regular contributing Correspondents, who bring fresh perspectives on the writing experience to our pages once a week. Please join me in thanking him for all he has done here to keep FFDO on track while I was otherwise engaged.
I also want to thank Estrella Azul, who also stepped up at about the same time, to take another huge load off my shoulders by volunteering to be the community news Editor. In fact, she even came up with the name of our weekly news column, The NewsFlash. She has been steadfast in her weekly efforts to scour Facebook and Twitter for news, and in consolidating the emails and messages members have sent to her. Through her efforts we were all able to share in the wonderful achievements you all accomplished week in and week out. Both these people have been wonderful to work with and in the case of E. D. Johnson, will be missed.
Fortunately Estrella will not be missed here at FFDO because she is still going to be around. I am very pleased to announce that Estrella Azul has graciously agreed to take up the mantle as our new Editor here at Friday Flash Dot Org. Please take a moment to pass on your own congratulations, and welcome her to her new post. Estrella will be managing the content of the front page, and she has some terrific ideas on how best to keep the site active, fresh, and interesting. If you have any ideas or proposals that you think would improve the public presence of FFDO please don't hesitate to send them to either Estrella or me. You can contact Estrella at estrella.azul@fridayflash.org, and me at jmstro@fridayflash.org with your questions, comments, or suggestions.
Of course with taking up the reigns of Editor, she needs to release those of the NewsFlash. As I found out long ago, doing both is way too much work and will quickly lead to burn out. To help preserve Estrella's sanity our own Angie Capozello will be filling in as the NewsFlash Editor, at least for a while. So beginning with news for next week please send any hot scoops to her care of angiec@fridayflash.org.
This column would not be complete without taking a moment to thank the others who help make #FridayFlash, and Friday Flash Dot Org a continuing success. Our technical team of Tim VanSant, Angie Capazello, and Susan Chambless keep things humming along, constantly bringing incremental changes to the fore in an effort to improve your browsing experience. Then there is the aforementioned a-team: Cathy Olliffe-Webster, Alex Carrick, Catherine Russell,  Jodi Cleghorn, and our newest contributor Dana Sitar, of the popular blog DIY Writing. Welcome Dana, it is good to have you aboard and we look forward to your posts. These fine writers bring us a rich mix of voices, and varied points of view in order to keep our pages useful and interesting.
Then of course there are all of you, the writers and readers who keep the whole world of #FridayFlash spinning, week after week. Our sincere thanks to you all.
~jon
* Quote taken from http://en.wikipedia.org/wiki/Catullus_101
Image taken from Catullus At Lesbia's by Sir Laurence Alma Tadema, which is in the Public Domain (via the Wikimedia Commons).