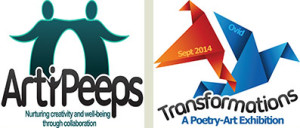 "Working in collaboration leads to a rich dialogue yielding unexpected results." ~Alexander Gorlizki
In 2012 when I started up my site ArtiPeeps for the creativity group I ran from my own home, I would have never believed two years on I would be coordinating our first Kickstarter campaign for Transformations, a large-scale poetry-art exhibition showcasing 29 emerging Twitter creatives hosted in September at Hanse House in King's Lynn, Norfolk in the UK. Neither would I quite believe that ArtiPeeps would be providing the breadth of showcasing and collaborative opportunities it does. It all seems to have evolved somewhat unexpectedly and out of my profound belief in the benefits of creativity and collaboration.
ArtiPeeps now runs regular seasons of work generated from a wide range of initiatives: individual showcasing via Weekend Showcase and FreeSpace, to mid-sized collaborations like Hot Potato (a collaborative short story initiative) to found poetry collaborations. So far well over 100 creatives have taken up opportunities. We are specializing more and more in collaboration because this is where we have seen the most benefit to creatives on all levels creatively and personally. Transformations is significant for us because we are placing this virtual collaboration in the real world for the first time.
For the last 15 months 14 poets and 15 artists from all around the world and of all ages, have been working together virtually through ArtiPeeps creating a new, contemporary version of Ovid's Metamorphoses.  I initially went onto Twitter as @ArtiPeep and gathered 17 poets together who were interested in taking part. This gradually whittled down to 14 and each poet has been submitting 1 poem per month for the last 15 months inspired by the books of Metamorphoses in sequence. Last week all the poets submitted their last book 15 poem, and now not only have they completed their own personal Metamorphoses, but they have also contributed their final poem to the collective version. 60 plus new poems will be featured at the exhibition.
At the exhibition the art and poetry will be juxtaposed together, placing them side by side; hopefully creating a rich dialogue which will introduce new audiences to the continuous poem Metamorphoses which has so influenced our myths and stories since antiquity.

I don't quite remember what made me have the idea to turn the online project into a 'real', external exhibition, but I then pulled together 15 artists from Twitter too and asked each of them to paint one picture inspired by one of the books of Metamorphoses.  Now here we are with all the artwork in and in the last week and a half of our Kickstarter campaign. Who would have thought?
ArtiPeeps and Transformations have evolved almost as if by magic and therefore I was not able to get formal funding in place for Transformations quickly enough. This is why we turned to Kickstarter for funding.  We have managed to secure a small provisional grant from Norfolk County Council of 」200 but we still need 」4413 to make our virtual project real. At time of writing we have 9 days to go and have accrued 」837.  Kickstarter campaigns, I have discovered, are very hard work and very intense, taking huge amounts of energy, effort and purpose. It is also quite a curious feeling to put your future, or the future of your project, into the hands of others. However, all the Transformers and I have pulled together and are working hard to bring Transformations to fruition.
Transformations is much more than just an exhibition though because we also hope to use it as a template for all our future large-scale collaborations. A template that we can use year on year to provide further opportunities for other creatives. Next year's will be on Norse Sagas and will combine prose, poetry and music. It will be featuring some of the creatives involved in Transformations, but I am also always on the look out for new creatives who want to get involved (prose-wise). I shall be fleshing out the exact nature of this project in June. I will also be funding this through government/trust grants in advance, so there will not be the nail-biting 'will-we-won't we' side of this Kickstarter campaign.
I started ArtiPeeps off because I believed 100% in the creative potential that is in us all. I wanted to create a space where this potential could be developed and platformed. Creative potential is there in us in a myriad of guises. It is equally expressed in a myriad of ways. We all have a right to express. It is this belief that drives me onwards with ArtiPeeps and in the provision of the opportunities that we will continue to develop. It is also important to me to make the virtual opportunities real and not 'one-offs' so that their are always external outlets  for creatives.
There is also a firm well-being aspect to what we do and bubbling alongside our poetry/prose/art collaborations you will also see a mental health initiative called 'Supporting Mental Health/Creatives Making A Difference' which focuses on looking at various emotions and mental health themes. Below you'll find a link to a video of 'The Recovery Project' which is going to be featured in a national conference for recovery run by the UK Recovery Federation in September. It features 3 poets/3 artists and a musician.

At the moment ArtiPeeps is a constituted voluntary organisation as well as a website. We will shortly be becoming a Company Ltd by Guarantee which will give us access to various new funding pots. This legal status allows us to have a charitable intention whilst generating an income. This will help us secure ArtiPeeps' future so we can keep on developing and offering opportunities like Transformations for years to come.
I think creativity and creating can be a very isolating experience and much can be gained from creatives interacting with each other and collaborating. It is this belief that underpins all that ArtiPeeps does and will continue to do: giving individual and collaborative opportunities to anyone who wants to create, because you never know what might unexpectedly evolve and it might just surprise you.
If you would like to get involved do get in touch via @ArtiPeeps or the site contact form on the What's On Page on ArtiPeeps.
Do take a look at our Kickstarter Campaign; consider pledging and help us make the virtual real.