June 21, 2012 in Groups, How-To, Tech by Tim VanSant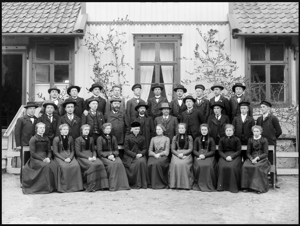 One of the features of the FridayFlash.org (FFDO) site that never caught on the way we had hoped is the ability to form and participate in Groups. We have noticed a trend away from niche sites and forums toward more general social media sites and the answer to why Groups aren't more popular here may be as simple as that. But our Groups also lacked an important function that we believe probably contributed to their lack of use. The system for notifying you of activity in a Group was (to put it succinctly and charitably) severely lacking. You pretty much had to visit the site and look at the Group or Activity stream to keep up.
We've installed a new plugin though that adds Email Notification to Groups and we hope you'll consider giving them a try now. Before I describe the email options, let's do a little refresher on Groups in general. Groups are a simple way to interact with other members who share a common interest or purpose. Any member of FFDO can create Groups. Groups can be public or private. (There is also an option for hidden groups, but we reserve those for our site Admins.) If you create a Group, you are automatically an Administrator for that Group. You can grant Admin or Moderator status to other Group members, but in most cases that probably isn't necessary. The official description of Group Settings and Roles is here.
A Public Group and all its activities are visible to everyone. Any FFDO member can join any Public Group. A Private Group's name and description are visible to anyone, but activities are visible only to Group members. Membership in a Private Group is controlled by the group's Administrator(s). You must either be invited to join or request membership and be approved by a Group Admin. You should also know that the editors and tech team for FFDO who have Site Admin status can monitor every group, public and private, even if we are not a member of the group. We trust you to use the groups responsibly, and will intervene only in extreme circumstances. Here's a simple example: sometimes a spammer will join FFDO (in spite of our efforts to keep them out) and will create a group with spam content. We delete those users and all the content they post.
To see a list of existing Groups, click on "Groups" in the menu bar at the top of any page (or click here). One in particular that I want to draw your attention to is called Criticize Me, and it was created as a "Critique area for people seeking more in-depth commentary on their writing. Readers should offer constructive criticism on the piece at hand by informing the author what worked well for them, places were they stumbled as a reader, and suggest how the piece might be improved." We started the Criticize Me group as a direct response to editor E. D. Johnson's introductory post asking our FFDO community for suggestions on what FFDO can do for you. More in depth criticism was the single most requested feature.
JM Strother (FFDO founder) has a public Group called General Discussion as a place for informal chats and content that may not fit another group. I've also created a public Group called The Sandbox, just as a place to try out the various parts and functions of a group. Feel free to join that group if you want a place to try out posting updates, forum topics, and replies or testing different email options. I'll clean out some of the content occasionally and, of course, you can quit the group at any time. Feel free to peruse the other groups, and create one if you see a need.
When you visit a group, you first see the Home stream. All activity (including update posts, forum topics, replies to updates or forum topics, and notices when new members join) for the group shows up here. If you are a member of the group, you will also see a form to post an update. New activity is posted at the top and everything scrolls down. It's easy to miss something if there's much activity at all in the group. (That's another reason for the email updates, and I swear I'm almost to the bit where I describe those.) Group Forums though help organize the information. Forums are based on Topics that include a title. Forum Topics are listed under the Forum tab for each Group. You can click on an existing Topic to read all the associated content or Create a New Topic.
In the Criticize Me Group, for example, you wouldn't want to place something to be critiqued as a simple post update. It would quickly get lost in the shuffle. Instead, go to the group's Forum and create a New Topic. Use either your name or the title of your piece for the Topic Title and then put your work in the Content. You might also include a note there if you are looking for specific feedback (on grammar, structure, or tone, for example).
Now, about the email notification (finally!). There are five levels of notification:
No Email (You'll have to visit the site to keep up)
Weekly Summary Email (All the week's topics – sent to you on Thursday)
Daily Digest Email (All daily activity bundled in one email – sent at 12:00 GMT)
New Topics Email (New topics are sent as they are posted)
All Email (Send emails about everything – post updates, forum topics, and replies)
The Group Admin sets a default level for the group, but each member can set or change the level of notification they prefer after joining the group. You set the level of notification you want for each group you are a member of — you may want some more often than others. Also note that the Weekly Summary and New Topics options only include New Forum Topics, not any replies and not updates posted in the Home stream. In addition, you may be getting email notices from FFDO triggered by certain events. For example, when another member sends you a friend request, message, or invitation to a group. To change those, in the menu at the very top of the screen go to My Account -> Settings -> Notifications. Set each radio button to Yes or No and then click the Save Changes button. There is also an option on that page to set all your group email options to No Email. Oh, and if you've set up to receive emails that you're not getting, check your spam filter. They sometimes get caught there.
If you've stayed with me through what turned out to be a long post, Thanks! If you have questions, add them in a comment to this post or visit the Tech Help group and post them there. I hope to see some groupies around here….
~ Tim
Photo by Fylkesarkivet i Sogn og Fjordane, via Flickr Creative Commons