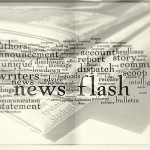 FridayFlash.org is looking for a new News Editor for The News Hound. As previously announced our long-time News Editor, Angie Capozello, is stepping down in order to devote more time to other things. If you are interested please contact me, jmstro@gmail.com. If you have questions on just what is involved in the position you can ask Angie by contacting her at AngieC@fridayflash.org.
Speaking of news, you may have noticed our community news has been a bit sparse of late. I'm sure you all are continuing to do great things. Please share them with us by feeding the News Hound. Give him a scratch behind the ears while you're there. Thanks.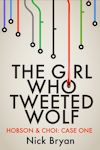 Nick Bryan announced that the first in his Hobson & Choi mystery series, The Girl Who Tweeted Wolf, is now available both in print via Amazon, and in digital form from many sources. Be sure to check it out by visiting the official Hobson and Choi webpage.
Teaser Tuesday — Drop by FFDO on Thursday for Helen Howell's discussion of poetry as an aid to fiction writing. 
—
Keep on writing, and congrats, Nick!
~ jon