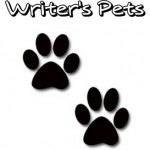 Public Group
active 1 year, 8 months ago ago
Pets. They're big, small, cute, cuddly, funny, daring, shy. They get into closets and drawers, help clean up, bring home (sometimes still alive) winged or furry presents, hide socks, chew on furniture, could very well replace your paper shredder, give it their best to turn your house into a pond one puddle at a time, leave paw print patterns in freshly poured cement (like my kitties decided to)… Ah, the stories we could tell about our furry babies.
So… why not tell those stories? If you enter by August 31st, you even have the chance to win fabulous prizes. First, second, and third places will receive Amazon gift certificates (or equivalent): $15 for 1st place, $10 for second, and $5 for third. The three winners will also be showcased right here on FFDO after the contest is completed.
Here's how to enter:
1. Upload a photo of your pet somewhere we can see. The new pets Facebook album would be good, or if you are not on Facebook, you can upload them to Bebo's group (the animal lover's group at FFDO).
2. Write a 250 words (max.) flash inspired by that photo or simply about said pet/pets
3. Join the Writer's Pets – Contest Group at FFDO (you must be a registered member of FFDO to be able to join any groups)
4. Leave your flash as a new forum topic in the contest group: in the "Title" write the flash title and your name separated with "- by…"
Into "Content" write your flash and don't forget to add a link to your photo to the end of the flash. You can leave "Tags" empty.
5. After posting it, "view" it and copy+paste the link over to the description of your photo on Facebook if you are using it, so people will find your entry easier
There is an entry by me in the group and a photo in the Facebook album, so you can check that to see the above steps implemented.
If you don't personally own a pet, but would like to participate, see if a photo of your friend's, parent's, children's pets prompt a flash. The important thing is to know the pet, as opposed to simple animal photo prompts.
You can post more than one photo, but link to just one for your one and only story. Or you can also leave off adding more photos for now – as the album will remain open even after the contest ends on FFDO.
While we don't mind you posting your entry on your own blogs as well, remember: You have to post it to the Writer's Pets Contest Group to win, place or show since the whole point is to get folks used to using Groups on FFDO.
Break a leg everyone!
~ Estrella Azul
Official Contest Announcement: http://goo.gl/9BP1x
Bebo's group (for photos): http://goo.gl/ZpXPA
Writer's Pets Facebook album: http://goo.gl/XBwHN